Scripture: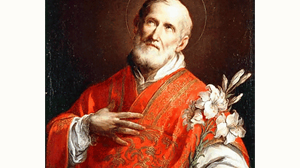 Reflection:
A number of years ago, as I was about to undertake a considerable challenge in my career, I confided to a friend that I was feeling a bit overwhelmed. He said to me, "Bob, you know what you're doing. But I don't think you know what you're getting into." Those sage words have remained with me and I have applied them many times over in my life.
I can imagine Jesus offering the same wisdom to the apostles, like St. Paul in today's reading from the Acts of the Apostles. The early days of the Church must have been filled with uncertainty. There was no playbook or strategic plan. In so many ways they hadn't a clue as to what they were getting into. But they somehow knew what they were doing. That is the gift of the Holy Spirit.
Today is also the feast of St. Philip Neri, an unlikely saint, as many are. Life unfolded for him gradually. He responded to one set of needs that led him to open himself to respond to a whole other set of needs. First serving the poor alone, others soon desired to join with him inspired by his zeal and holiness. At the beginning of his simple ministry to the poor of Rome, Philip could not have known that he would be the founder of the Congregation of the Oratory. He just kept opening himself up to where God would next lead him.
We all like the assurance that comes with certainty. But certainty is not one of the gifts of the Holy Spirit. We want lifetime guarantees. But a life of faith offers none but the guarantee that Jesus will be faithful to us, will always love us and never abandon us. As the Lord says to St. Paul in today's first reading, "Do not be afraid…for I am with you." With this assurance, I can again believe that while I may not know what I'm getting into, I know what I am doing by entrusting myself to Christ.

Robert Hotz is a consultant with American City Bureau, Inc. and was the Director of The Passion of Christ: The Love That Compels Campaign for Holy Cross Province.