The Most Holy Trinity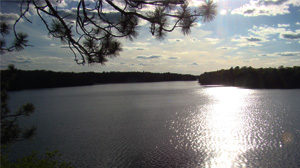 Scripture:
Deuteronomy 4:32-34, 39-40
Romans 8:14-17
Matthew 28:16-2
Reflection
What was the first Religious thing you were taught?  For me, it was the Sign of the Cross
"In the name of the Father,
and of the Son,
and of the Holy Spirit."
That is such a powerful statement of faith, blessing ourselves with Holy Water and signing our entire body in the name of the God of all things.  It took me years, but I came to understand when I make the Sign of the Cross, I'm submitting each action, deed, thought – every single action of mine – to God, and doing them in His name.
Every single action.
Each time I thank a server for bringing me a straw, it's in God's name.
Each time I make someone laugh, it's because the Joy of the Risen Christ lives in my heart.
Each melody or text I compose, it's the Holy Spirit screaming in my ear
And each time I snub that homeless vet on the freeway offramp –
each time I look at someone and judge them harshly, ignorantly –
each time say something hurtful or untrue, no matter the reason
No matter what I do, good or bad, God the Father, God the Son, and God the Spirit is there.  It's pretty easy to recognize the work of God in the good deeds and love we feel.  But for me it's an enormous challenge to live through tragedy and find the Holy Spirit at work.  It's nearly impossible to sift through human hurt and betrayal and disease and death, and try to grasp that God's there with a master-plan.
But it's true.  Perhaps death is God's way of saving us from the future.  Perhaps a personal tragedy becomes the fertilizer through which miracles grow and are revealed.  It is true… like it or not… the Holy Spirit of the Living God and Christ the Son is in you, and me, and everything
Realizing all this makes me wish people were nicer to me… and I hate to admit that it also makes me see my own and often-occurring failure to treat others with the love and kindness gifted me by our Triune God.  And that sure makes me want to act like a better person; like the good and beloved child of the Trinity that I was born to be
Dear God, thank you for the gift of your most precious presence. Grant us the grace to see you at work – Father, Son, and Spirit – every-where and every-moment. Amen.
Paul Puccinelli is Director of Liturgy & Music at St. Rita Parish in Sierra Madre, CA, and a member of the retreat team at Mater Dolorosa Passionist Retreat Center.