Scripture: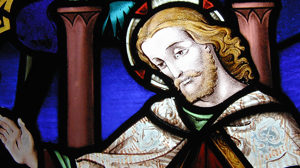 Acts 17:15,22-18:
1 John 16:12-15
Reflection:
"I Have Much More To Tell You…"
As we enter upon the month of May, for many people of all ages this is a time focused on their education:  the conclusion of the academic year, with reports to write, exams to take, a future to consider…  For many these are challenging times, with long hours of intellectual focus, the pressure of deadlines, and lots of academic material to cover and review.
Today's Scriptures touch upon the "education" of both Jesus' disciples and the people St. Paul addressed in the Areopagus in Athens.  The Good News of God's merciful love flowed from Jesus' very words and deeds as he worked with his disciples and the many people of all ages and walks of life that he encountered.  Jesus' disciples like those in the Areopagus, needed time to assimilate the inviting yet challenging message of God's love.
Jesus intimately knew his disciples and their human limitations, and thus said to them:  "I have much more to tell you, but you cannot bear it now."  A radical love, a life of service, the mission of sharing the story of Jesus, the good possibility of suffering for the faith…not an easy lesson to learn for the disciples of times past, or for ourselves as 21st Century disciples!  It even happens, as it did for St. Paul in today's reading as he spoke of Jesus' resurrection, the words of rejection in "…we would like to hear you on this some other time…"
Jesus' disciples, St. Paul, and each of us are people "on the grow", with lives to live and lessons to be learned as we live our faith in the realities of daily life.  Jesus encourages us to be patient, to be open to action of the Spirit who will guide us to all truth — and to then be Spirit-filled people as we live and proclaim God's love and mercy.  Given the many challenges to be faced in our world today – poverty, injustice, violence, abuse, homelessness, hunger, etc. – as people of faith, with one voice, we call out:  Come, Holy Spirit!  Kindle in us the fire of your love!

Fr. John Schork, C.P. is a member of the Passionist community in Chicago, Illinois.