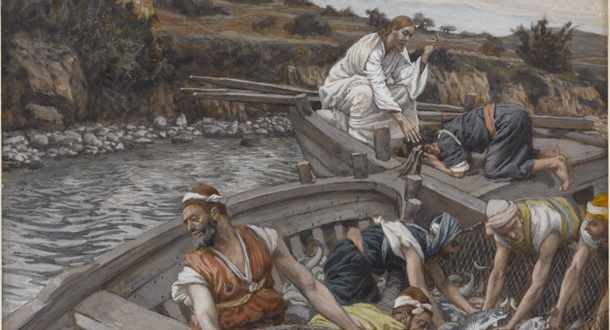 Scripture:
Reflection:
"…Do not be afraid…It is I…"
Quite a scene in today's Gospel:  Jesus' disciples riding in a boat on the sea, heading toward Capernaum.  It's dark, the sea was stirred with sizeable waves, a strong wind was blowing, they had been rowing for a long distance.  Then in the darkness, they see Jesus walking toward them, on the surface of the water!  Needless to say…they were afraid — this rag-tag group of everyday men, from all walks of life, trying to journey with Jesus as He taught and ministered.  In the choppy darkness, Jesus approaches them and calmly says:  "It is I.  Do not be afraid."  No doubt, Jesus needed to calm their fears and again harness their youthful enthusiasm.
A similar situation arose a bit later in the early Church:  the Church was growing, and there were many spiritual and human needs to be met – more than the original 12 Apostles could handle themselves.  Rather than be paralyzed by inaction and fear, God's Spirit led the Apostles to choose some reputable, talented people to meet the basic needs of the growing Church.  The deacons were "ordained", and the Church grew – and continues to grow to this day, including ourselves and our Passionist Family.
No doubt we 21st Century Easter People have our share of fears and needs.  A quick glance at news headlines bombards us with problems and challenges galore – health issues, leadership issues, refugees fleeing from danger in a variety of countries, hunger, injustice, abuse, politics, etc.  So easily we can suffer from "paralysis" with these important issues and want to retreat into safe little hide-aways.  But this Easter Season 2019 the Risen Jesus reassures us:  "Do not be afraid."  Stay close to Him, be open to the workings of the Holy Spirit, join with Our Mother Mary and the holy women and men of history – and the "seas" of our life will be calmed and we'll head in the right direction…toward heavenly life!  Placing our trust in the Lord (Psalm 33), the Risen Jesus will continue to journey with us and help God's reassuring Message of unconditional love to spread in our needy world.
With such divine encouragement, we have reason to embrace our fears and needs these days, singing our Alleluia's …even though perhaps off-key at times… "Don't be afraid."

Fr. John Schork, C.P. is a member of the Passionist community in Chicago, Illinois.