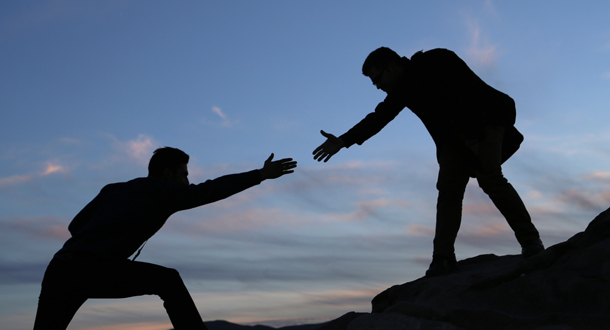 Scripture:
Reflection:
Called to Witness Love Incarnate
It's the 4th week of Easter –and the Good News of Jesus Risen continues to spark new Life and Vitality in us and our world. Celebrating Easter brings with it a renewed sense of God's life-giving, loving presence — and Jesus' encouragement to follow His example in witnessing Love through the service of our sisters and brothers.
Today's Gospel selection from John 13 recounts Jesus' Last Supper experience of encouraging his disciples, having just washed their feet. He invites them to follow His example, to believe in Him and share that belief with others in both word and deed. No doubt, a challenge – but also a gift, as Jesus states: "…Amen, amen, I say to you, whoever receives the one I send receives me, and whoever receives me receives the one who sent me." Later verses in John's Gospel paint a scenario that includes both the disciples' heartfelt witness AND weak betrayal.
The first reading from the Acts of the Apostles reveals the transforming power of the Holy Spirit in the disciples' lives. Paul and his companions arrived in Antioch and were invited to speak in the synagogue. Paul shared a heartfelt sermon on the history of salvation, culminating in the person of Jesus: his life, death, and resurrection. His preaching touched many hearts…and the number of believers continued to grow, as did his own call to missionary discipleship.
Thus, our challenge: how has Jesus' Easter event touched and changed our lives? Do we join Jesus in washing feet – mending the "fences" of distrust and division, and thus reaching out to needy hearts with a good dose of a disciple's love? Perhaps we need a disciple's healthy dose of "Spirit" this Pentecost… Our world struggles to find meaning and hope, to experience love rather than violence and bloodshed. Perhaps a few hours of unhindered quiet and mindful prayerfulness can rekindle in us the dynamism of Easter and the Risen Jesus… No doubt, as transformed Easter people we can "sing of the goodness of the Lord" (Psalm 89)…even with voices perhaps a bit off-key.
Our call to witness the risen Jesus and God's loving kindness is truly amazing! Alleluia!!
Fr. John Schork, C.P. serves as the Province Vocation Director and also as Local Superior of the Passionist Community of Holy Name in Houston, Texas.