Scripture: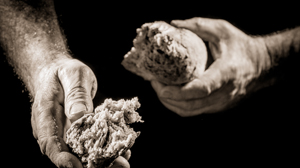 Reflection:
Today's reading is hard because Jesus seems to be upholding being dishonest/unethical and protecting your own back as a prudent way of being. But I think the message goes deeper.
This steward didn't care about the poor people who owed money and goods to his master…UNTIL… he saw things from the other side. He realized that he would soon be fired and therefore joining the ranks of those without money or resources. There is no substitute for truly encountering those in need and imagining oneself walking in their shoes for gaining motivation to help. In this case, yes, the steward was trying to pave his own path by having people feel grateful and indebted to him. But in the process, and through putting himself in their shoes, perhaps he realized the value of generosity, the reciprocity of compassion, and the fundamental truth that this is the way we should all be dealing with each other anyway.
Interestingly, the master wasn't angry at him for depriving his business of payment, which may reflect the likelihood that those payments were inflated to the highest level possible, allowing the powerful master to take advantage of the powerless to line his own pockets. Perhaps, ironically, the master saw that a little easing of a debtor's burden could be a way to increase his business even more, thereby generating good will and gratitude among customers who would spread the word about the benefits of working with him.
In other words, Jesus was pointing out that businesspeople who get in trouble or who act out of pure self-interest often act more kindly to people than so-called Christians act toward one another in the regular course of their day. In fact, our society today is rapidly turning viciously mean-spirited and judgmental, and the worst of the offenses are often led by people who claim they are Christians acting according to the Word of God. What an indictment! Christ is being crucified by his own followers.
There is a social experiment in which participants are asked to create laws for a society without knowing whether they will be at the top or the bottom of that society. The laws created were more just and equal than anything that currently exists. When we believe we honestly could be next in line to suffer whatever dignity or difficulty we see around us, it would change us profoundly.
For instance, what if every Christian of means lived for at least one week without the money, home, and privilege to which we are accustomed, to truly discover what it's like for those without it to try to survive? What if non-minority Christians stood side-by-side with our minority brothers and sisters to insist on equal justice, equal opportunity, equal education, and equal wages? What if rather than trying to ban them from the country, Christians stood up for those of other faiths, learning from them, breaking bread together, and defending them from those who would do them harm simply because of their garments or beliefs? What if all Christians could truly listen to and have respectful dialogue with those who disagree politically so we could understand each other and find common ground instead of issuing death threats, refusing all compromise, cutting off connections, and proclaiming judgment on their souls?
Unlike the dishonest steward, we are called to compassion, empathy, and action, not because it enriches us financially, but because we are instruments of Christ in a hurting world. As St. Paul is fond of saying, we should out-do each other in generosity and love, rather than looking out for our own interests, building barriers that keep others away, judging as lazy or unworthy those of lesser means, and allowing fear and mistrust to define our interactions with those of a different skin color, culture, religion, or life.
Can we reverse the indictment? Can we stop putting our own interests first, and live as disciples of the Gospel? What lessons might we learn and what hard places in our hearts might be softened if we do whatever is necessary to share in the sufferings of others and experience the fact that all of us are children of the one God, intimately connected one to the other and deserving of utmost respect?
We need to stop operating by the rules of me-first business and instead operate as disciples of Jesus Christ. Our brothers and sisters cry out from one end of this nation to the other, from one end of the earth to the other. Can we hear? And can we act?

Amy Florian is a teacher and consultant working in Chicago.  For many years she has partnered with the Passionists.  Visit Amy's website: http://www.corgenius.com/.