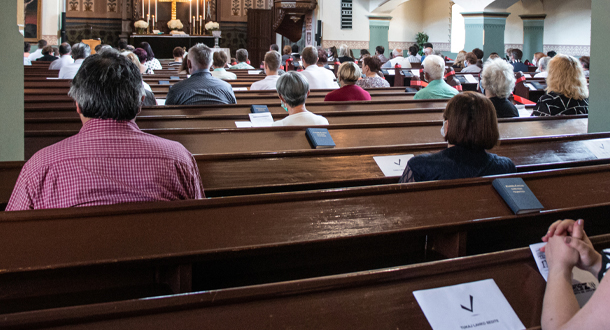 Scripture:
Reflection:
When I write these meditations, I am thinking primarily of people with whom you come in contact in your somewhat "limited life" thanks to the pandemic. Yes, I am writing to people called by God to "unleash energy of the Gospel" wherever and with whomever you are present today. "The Kingdom of God is among you." (Luke 17:21)
You convey the Kingdom through your sensitivities, words, deeds and decisions to do something.
I assume these days, where obligatory church attendance is optional, many have let go of the necessity to spend time with the Body of Christ, sacramentally and ecclesiastically!
I write this for the benefit of your "presenting Christ," to those who do not expose themselves to the real presence of the Word. This is the "lens" through which I read the Word of God.
Two human phenomena dominate the Word today. Yearning and longing. Both desires are at the core of our humanity, uniquely, in men and women. "The heart is a lonely hunter." "My heart is restless until it rests in God." Both of these sayings are familiar.
We meet people like the man whom Paul encountered while imprisoned. Onesimus (meaning "useless" in the original translation) a runaway slave, who cannot find himself nor feel that they do not belong. Useless, aimless, purposeless.
If life is a journey, then there must be a destination. It is so hard to find and hold onto.
According to the psychotherapist, Robert Furey, "Without this destination life would be only an aimless movement without the purpose and direction inherent in a true journey. (p. ix, The Road To You, Alba House, 1997)
Dr. Furey assumes that each one of us has a definite destination – and each journey begins with a yearning and a calling. Through every obstacle, disappointment and challenge, we are being prepared to fulfill our God-inspired vision. "The road to you takes you to the place where you can live your calling." (p. ix)
I do not believe that anyone is bereft of a calling. God's creation, in humanity and all living things, are imbued with love, and love contains meaning and purpose.
As usual many are afraid and resist their calling out of fear. Fear that they are being called to do more than they can! This would lead to failure, embarrassment or whatever they fear the most. Or, the opposite concern. They dread the thought that the tasks to which they are called may be judged insignificant! So, 2000 years later the story of a runaway slave with a ridiculous name of "useless" who is in jail, gets our attention.
Please, never underestimate the power, the energy of God within you, "as lightning flashes and lights up the sky from one side to the other." Pray, ask for the grace of God, the same grace that touched Paul, to be planted in our hearts with the yearning that points to our own special direction. And when I say "pray," this means more than petitioning God. It means "reflecting," i.e., "looking back" to see where God has already given you direction. In this way you develop and awareness of your calling, find your purpose in life and begin to understand where you belong. That is spiritual energy… the most powerful kind of energy in the world. Accept your calling everyday, and the energy will be there.
Fr. Alex Steinmiller, C.P., is a member of the Passionist Community in Detroit, Michigan.