Scripture: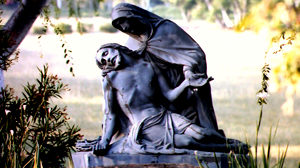 Reflection:
My sister told me that when Dad knew he was dying, he looked at her and said, "Don't forget me, OK?" The question might seem silly, as if any of his ten kids would ever forget their father. Yet I have seen it over and over again. Dying people want to know their life made a difference, had some meaning, touched someone, and left enough of a legacy to endure. Likewise, survivors of a loved one's death are hungry to know that someone else remembers besides them, that their loved one's absence leaves a void in the world and they will not be forgotten. There is a deep longing in the human soul to live on and to know our loved ones live on as well.
Scripture describes it best when it says that we were formed to be "imperishable" in the image of God's own nature. Some theologians, in fact, argue that our deep-seated desire for immortality is evidence that we are indeed immortal, that there is life beyond our earthly tenure. However, it does not change the fact that we are anything but imperishable in this life.
In my work with grieving people, I have come to see how important it is to honor that desire for memory and legacy. I often use a quote from tribal tradition: "No one is ever truly dead from this earth until there is not a person left alive who speaks their name or tells their story." Why, then, do we tell mourners to put it behind them and get on with life? Why do we talk about anyone and everyone except the person who died? Why do we literally avoid saying the name and telling the story? It is not what the grieving person wants. It is not what the deceased person deserves. But it sure does make it easier and more comfortable to avoid the topic.
In reality, we never "put it behind us and get on with life." We have to let go of that person's physical presence; we will not hear the laugh again, feel the hug, or see them in their favorite chair. But we heal by creating memories out of what can no longer be, and carrying them with us into the future. We carry the life, love, lessons, stories, and memories, knowing that we are different because this person lived and died.
If you want to support a grieving person, don't be afraid to say the name and tell the stories. Call them on the person's birthday. Take them for coffee and share stories about their loved one. (Yes, you can include the good and the bad. Recognize that we're not perfect people; we're just people doing the best we can with what we've got, and we all mess up). Send a card on some of the monthly anniversaries letting them know you're thinking of them and remembering with them. Accompany them to an All Souls service. Deliver flowers or comfort food or a bottle of wine on the anniversary of the death. In big and small ways, help their loved one live on in memory and story.
It can seem counter-cultural in our society that wants to deny death and grief. Ignore society. Take the chance to love someone that well, to laugh and cry together, to help them heal, and to make a difference in another's life. Be the face of Christ to them when they most need you.
Interestingly, the more you can do that, the more "imperishable" you become. You build a legacy of love and care that is more meaningful than any physical monument, accolade, or award, and people will remember you long after you are gone. And if we can all build that kind of legacy, who knows what might happen? I suspect we may bring about the kingdom of God on this earth.
Amy Florian is a teacher and consultant working in Chicago.  For many years she has partnered with the Passionists.  Visit Amy's website: http://www.corgenius.com/.