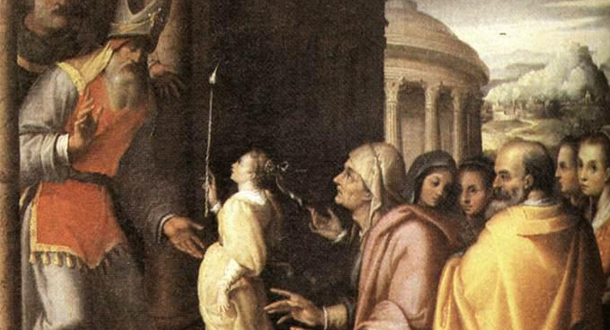 Presentation of the Blessed Virgin Mary
Scripture:
Revelation 11:4-12
Luke 20:27-40
Reflection:
The feast of the Presentation of the Blessed Virgin Mary is based on the ancient tradition of presenting Mary in the temple in Jerusalem and dedicating her to God. At our Baptism all of us were dedicated to God. To what degree do we daily live this dedication to God?
The first reading and the Gospel is about heaven and our afterlife. The tricky Sadducees put Jesus to the test. "In heaven people will not marry or get married." Mortality is a passage from mortal to eternal life, and November's feasts of All Saints and All Souls remind us of our own passage. (Earth Healing, Daily Reflections, Fr. Al Fritsch, SJ, Eco-spiritual reflection on the month of November 2020," Experiencing a New Creation").
This month of November is a good time to reflect on our own future death. Here are some things to think about and share with our loved ones: Advanced Directives and appointing a health care surrogate to make decisions for us when we are no longer capable; what kind of funeral we want; the place of our funeral, wake and disposal details, person designated to conduct the services, songs, stories and other tokens of remembrance for wake or funeral service; choice of pallbearers and funeral directors, details of public viewing or its omission, and even elements of an obituary notice. Preparing these matters ahead of time is a blessing for our family. (Adapted from Fr. Al Fritsch, Earth Healing Reflection, "Dying with Dignity" November 2, 2012).
Carl Middleton is a theologian/ethicist and a member of the Passionist Family.