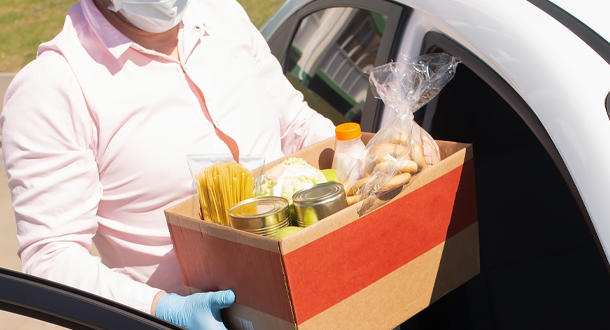 Solemnity of Christ the King
Scripture:
Ezekiel 34:11-12, 15-17
1 Corinthians 15:20-26, 28
Matthew 25:31-46
Reflection:
I was hungry and you gave me to eat.
I was thirsty you gave me drink…
At this moment in time, everyone is suffering. In historic numbers worldwide, layoffs continue for those least able to stay afloat financially, breeding anxiety, domestic violence and suicidal behaviors. Even two-career families blessed with jobs working from home, are still struggling, trying to care for and educate their children. With many schools now offered only virtually, there is the attendant loss of free breakfasts and lunch which were the only guaranteed daily nutrition for many young families. This has led to dramatically heightened incidents of childhood psychological and physical illnesses in just the past three months of pestilence.
The elderly are severely at risk from the virus and in protecting themselves, or being protected by others, must be isolated more than ever before. Programs and charities to attend to them are stretched beyond their capabilities or even the vision planning for that assistance which occurred in normal times without envisioning the need for the scope of a whole wide, or community wide need for food and companionship. Meals on Wheels, which typically delivers 200 million meals a year to American seniors, finds itself overwhelmed not only by the surge of need but also by seventy-five percent decline of corporate volunteers as businesses shut down or reduced employee hours. Many of the average volunteers are over age sixty-five themselves. They must think first of themselves and their immediate family, leading to an immense drain on the source of help from those wonderful, giving people.
All these are hungry for sustenance and human comfort, are thirsty for knowledge and guidance, are alone, depressed and have lost hope. I cannot deny that I have seen them, know them, or know of them. "What you did not do for the least of these, you did not do for Me".
If today you hear His voice, do not harden your hearts. -Hebrews 3:15
Ray Alonzo is the father of three children, grandfather of two, and husband to Jan for 45 years. He is a USN Vietnam Veteran, and a 1969 graduate of Mother of Good Counsel Passionist Prep Seminary. Ray currently serves on the Passionist Alumni Council.