Thanksgiving Day (USA)
Scripture: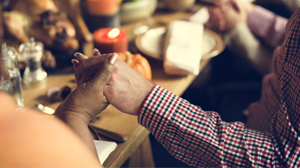 Revelation 18:1-2, 21-23; 19:1-3, 9a
Luke 21:20-28
Reflection:
Anatomy of Thanksgiving
 "In everything give thanks; for this is God's will for you in Christ Jesus."   1 Thessalonians 5: 18                           
This imperative of SS shows us how important thanks is to us.   It is not an option but an authoritative requirement.   But what do we mean by Thanksgiving.   In Scripture the dominate word for thanks is eucharisteō in original Greek New Testament.  The verb and noun are used 83 times!
The word means eu good or beautiful and chaírō joy.  The gift given is both beautiful and gives me great joy.  To be thankful in Scripture is to appreciate the wonderfulness and beauty of the gift.  In doing this we praise or acknowledge the giver.   Now "Every good gift and every perfect gift is from above, coming down from the Father of lights". James 1:17
Appreciation becomes extremely important to the notion of gratitude.   We can have little thanks if we have little knowledge of the gift!   For example. if I realize I was the size of a sesame seed at 5 weeks and God in His wonder brought me to adulthood I would be grateful indeed!   Life is a breathtaking miracle that not even the smartest biologist in the world can understand thoroughly or much less create!  So we praise God the Creator of our life in thanksgiving.
In Hebrew the word thanks is expressed by admiring the giver.  Almost always the word used for thanks in the OT is really praise (yādâ).   So if someone prepares a great meal for you, you would not say thanks but praise the cook!
Everything we have in life is a gift from our Father in Heaven "for He causes His sun to rise on the evil and the good, and sends rain on the righteous and the unrighteous. Mt 5:45   All creation is an effect of God's word to us.  "Every creature is a word of God!" Eckhart   The anatomy of thanksgiving comprises a comprehension of a gift of the beauty of God in all His works!  True gratitude is expressed in one who has a taste of God in all His works.

Fr. Bob Weiss, C.P. preaches Parish Missions and is a member of the Passionist Community in Louisville, Kentucky.