Scripture: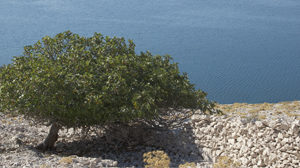 Reflection:
Once again, our readings offer a dramatic contrast, although both passages are provocative. From the Book of Daniel, we continue a rich, apocalyptic literature, saturated with elaborate, even cryptic symbolism. The Gospel, on the other hand, offers a lucid, organic imagery — down-to-earth and practical, everyday wisdom that we learn from the natural order.
So many times in the Gospels Jesus admonishes his disciples to stay awake, to be attentive. He wants us to notice the lessons in nature, too, because something as simple as a blossoming fig tree will teach us. Or remember when he instructs his followers to "read the signs of the times" — "…when the south wind blows, you say, 'It's going to be hot,' and it is. You hypocrites! You know how to interpret the appearance of the earth and the sky; why do you not know how to interpret the present time?"
Earlier this week we pondered how the obstacle isn't always some kind of extrinsic evil or influence… it might come from within. In the shadow of the staggering global suffering and grief we now experience, for me, sometimes the biggest temptation is my penchant for quick answers, my craving for certitudes, and I am simply not vigilant. I want it swift and tidy. It is then that a quotation from M. Gandhi consoles and inspires:
When I despair, I remember that all through history
the way of truth and love has always won.
There have been tyrants and murderers
and for a time they seem invincible,
but in the end, they always fall –
think of it, …always.

Fr. Jack Conley, C.P. is the director of the Office of Mission Effectiveness.  He is a member of the Passionist formation community at Catholic Theological Union in Chicago.