First Sunday of Advent
Scripture: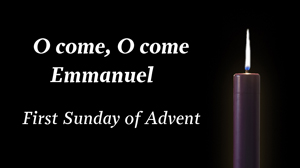 Isaiah 2:1-5
Romans 13:11-14
Matthew 24:37-44
Reflection:
I love Advent. Maybe it's the anticipation and hope of being closer to God by the time it ends. Maybe it's the wonderful quotes from Isaiah in the readings combined with our own hope for a better world. Or maybe it's just plain old anticipation of better things to come amidst the uncertain and ominous signs of our times.
Advent promises change.  Advent opens up the possibility of somehow softening my own heart in the presence of God.  On this beautiful fall day in Louisville, with a hint of winter in the air, I raise my arms to the heavens and join in singing an old hymn, "Here's my heart Lord, take and seal it, Seal it for thy courts above."  "Whoa there Terry!  Looks like you're missing the tree for the decorations."
Advent creates new visions.  Advent offers the vision of a world where we all stand with and support the crucified of the world.  Advent calls me to stand with immigrants.  Advent invites me to stand up for those who are discriminated against in our world and then steers me toward those who are in poverty.  Advent propels me to take a stand for justice in an often unjust world.  Advent demands that I "beat my sword into a plowshare and my spear into a pruning hook" declaring that violence of any kind is not an answer to any issue.
Advent is not 4 weeks of fantasy.  Advent requires real change of heart.  Pretty hymns, poetic words and sentimental feelings are not enough.  They can be a distraction.  Advent is hard and risky work.  So as I reflect at the beginning of this beautiful season, I remind myself that changing my heart will be an uncomfortable and challenging process.  Join me in prayer.
Let us pray for one another as Passionists, that during Advent we may open ourselves to real change in our lives, in our hearts and especially in our actions!

Terry McDevitt, Ph.D. is a member of the Passionist Family in Louisville, Kentucky.