Scripture: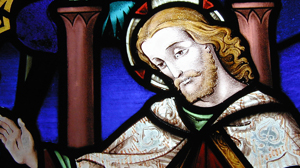 Reflection:
On November 24, 2013, Pope Francis issued a pastoral exhortation, Evangelii Gaudium ("The Joy of the Gospel") which urged a joyful proclamation of the Gospel to the world.  On this Monday of the First Week of Advent, our scriptures are filled with words of joy.
"For over all, the Lord's glory will be shelter and protection:
Shade from the parching heat of day,
Refuge and cover from storm and rain."   IS 4:5-6
Our Lord gives us shelter protecting us from the elements that can cause us distress.  Our God is a refuge from the storms that interrupt our lives.
'Let us go rejoicing to the house of the Lord.  PS 122
The responsorial psalm we pray today reminds us of the peace and joy which can be found in the house of the Lord.  As we journey through these days of Advent, let us set our focus on spreading this message of peace and joy among God's people.
"Amen, I say to you, in no one in Israel have I found such faith."
In the Gospel of Matthew, we find Jesus approached by the centurion with a request to heal his son who lay ill.  In response, Jesus was willing to go to his home and cure the boy.  The faith of the centurion amazed Jesus prompting him to single him out and cure the boy from afar.  Is our faith as strong as that of the centurion?
Can we take time this Advent to rest in the shelter of God's love and protection amidst the busyness of the season?  Will we take time this Advent to share the peace and joy of the Lord?  Is our faith as strong as that of the centurion?  Will anyone notice, especially our God?
In our parish, the theme of this Advent season is:
The Joy of the Lord Transforms
For the past year we as a nation have been surrounded by so much negativity and division it has made us a wounded and frazzled people!  May this Advent season be a time of renewed faith, hope and love as we rest in the joy of the Lord which transforms us so that we are truly able to enter into and celebrate the joy of the miracle to be found in the birth of that small child in that stable in Bethlehem!
Blessed Advent to All!

Theresa Secord is a Pastoral Associate at St. Agnes Parish, Louisville, Kentucky.