Scripture: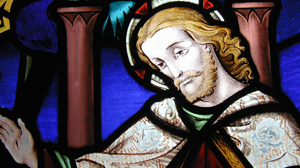 Daniel 5:1-6, 13-14, 16-17, 23-28
Luke 21: 12 – 19
Reflection:
 By your perseverance you will secure your lives. Luke 21:19
 In this last week of the liturgical year we are reminded of many things. In the reading from Daniel we are challenged to look at what our focus is in life. The King was so caught up in his party that he became carried away and brought the sacred vessels from the Temple to use for his own pleasure. This time of the year it is so easy to be caught up in the frenzy of Black Friday or Cyber Monday! Sale! Sale ! Sale! Catch our eyes as we try and look for the bargain on those Christmas presents we are shopping for. Not that gift giving is a bad thing it is just our focus and keeping ourselves focused on the true meaning of the coming season of Advent and Christmas. Are we focused on material things or the people and events around us? Are we using objects to assist us in our daily work or to help us become a better person? Saint Benedict reminds us to keep all things in moderation. It's all about keeping our balance.
In today's Gospel Jesus reminds us that it is not easy being a disciple. I continually remind my students that being a follower of Jesus Christ is the most difficult thing they will do throughout their entire life. It requires daily attention to what we are doing and why we are doing it. It requires us to daily feed our spiritual life. It requires of us tough decisions that may not always make our friends or family happy. And through it all Jesus Christ will be there with us, protecting us, guiding us and that perseverance does win the day.
As the end of the liturgical year draws to a close and a new one is about to begin we take time to look at how we are focused and keeping our balance. May the new liturgical year bring many blessings and graces to you and your family.

Linda Schork is a theology teacher at Saint Xavier High School in Louisville, Kentucky.