Scripture: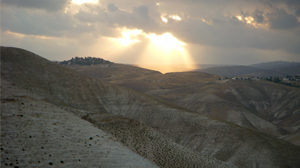 Reflection:
In You oh Lord, I have found my peace.
This is the responsorial psalm for today. God's peace is one of our greatest gifts, but it's up to us to receive that gift and choose to live in peace. One of the ways we can foster peace is by controlling our thoughts.
We all experience difficult days when we let negative thinking get the best of us. I had a major melt-down several months ago. My feelings had been hurt and I was feeling very rejected and sorry for myself. One by one, negative thoughts came marching into my head. (We don't have any real friends here. Jay's moving to Denmark, and I may never see him again! I don't think my shoulder will ever stop hurting. What if we have to move away from our kids and grandkids?) As each thought came, I let it stay, and soon I was spiraling toward despair, far from the peace that Jesus offers us in any circumstance.
A little later, my husband made a comment that felt like a criticism to me, and the floodgates opened. All of the negative emotion from the day came pouring out. Poor Jim! It's so important to see how our thoughts affect our feelings and how our feelings affect our actions and decisions. If we're not careful, our emotions can dictate how we live, rather than our faith.
How much better to stop each thought as it comes, and look for the positive, or at least remember that no matter what happens, Jesus is with us, and it will all work out! God's peace is available to us every day, no matter what is going on. Lord help me look to You when problems and negative thoughts bombard me. Thank you for being our peace.
Janice Carleton and her husband Jim live in Portland, OR and partner with Passionist Fr. Cedric Pisegna in Fr. Cedric Ministries. She is the mother of 4 grown children and grandmother of 6. Janice also leads women's retreats and recently published her second book: God IS with Us. Visit Janice's website at http://www.janicecarleton.com/ or email her at [email protected].