Feast of St. Charles Borromeo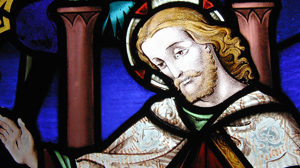 Scripture:
Reflection:
Loving God, Neighbor, Self:  A Real Challenge!
At first glance, the words of Jesus in today's Gospel and the words of St. Paul in the reading from his letter to the Romans – the words seem to contradict one another.  "…if anyone comes to me without hating his father and mother, wife and children…" and "…owe nothing to anyone except to love one another…'you shall love your neighbor as you love yourself'…".  Further reflection highlights Jesus' use of making his point by exaggeration:  nothing and no one can stand in the way of our Christian call to loving discipleship – which includes carrying our crosses, renouncing our possessions, and following Jesus!  A real challenge for us 21st Century folks!
Jesus' and St. Paul's words come alive for us as we continue our November journey and commemorate saintly people – today highlighting the person of Charles Borromeo.  A zealous man of the 16th Century Church, he is seen as a true pastor who helped reform and grow the Church in a variety of ways.
As a bishop and Cardinal, Charles was one to encourage the intellectual and moral growth of clergy and religious, especially in forming new seminaries.  He helped author the catechism that was called for during the Council of Trent, and started the Confraternity of Christian Doctrine (CCD) for children's growth in their faith.  He held many special meetings in his home diocese of Milan, seeking to incorporate the message and teachings of the Council of Trent.  He reached out to the poor and needy of his day, sacrificing personal wealth, honor and influence to offer hands-on service to them – even in the challenges of the plagues and famines of his day, as he ministered to the sick, the hungry, and the dying.  Truly a zealous, loving man throughout his relatively short 46 years of life!  (And I think, Charles' life would "fit" the call to discipleship that Pope Francis is setting before us these days…)
We're encouraged this month of November to look to the lives of those who have gone before us…the "official" saints and the "everyday saints" we each know or have known.  Love of God, neighbor, and self is at the heart of each of their lives – and no dimension of this love can be downplayed or skipped!  So…
Today, as we seek to follow Jesus with the encouragement of others, we reach out in love in our day – to God, one another, and even ourselves.  Perhaps today is the day to let Autumn come alive for you:  to experience God in the beauty of autumn leaves and the crisp air, to have some quiet time for yourself, to enjoy a favorite meal or drink, to reach out to a family member or friend… May we be blessed, and encourage others to rejoice in their blessedness…all of us "saints under construction"!
Fr. John Schork, C.P. is a member of the Passionist community in Chicago, Illinois.