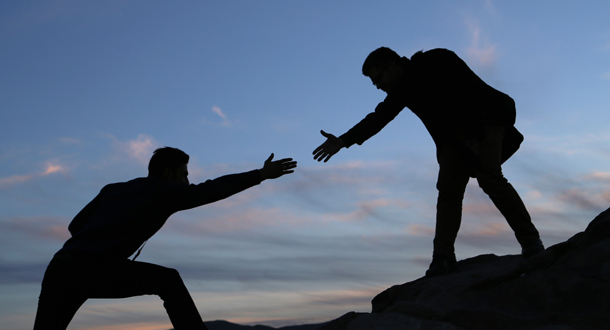 Scripture:
Philippians 2:12-18
Luke 14:25-33
Reflection:
The Challenge, The Opportunity!
Jesus has some strong words in today's Gospel: discipleship includes hating your family, hating your own life, renouncing all your possessions. Soooo…What about His earlier statement to love God, and to love our neighbor as ourselves? Conflicting messages! Jesus also includes His earlier statement: "Whoever does not carry his own cross and come after me cannot be my disciple."
Jesus' powerful words today underscore the total dedication that is involved in following Him. That's the vocation of every Christian: the total gift of self in one's particular style of life. Married people, single people, priests, consecrated religious women and men. The two "mini-parables" at the end of today's Gospel expand upon the self-knowledge involved in discipleship: we're reminded to inventory the materials on hand before starting a building project – and number your troops before you head off to war.
Discipleship is demanding! Daunting! Upon further reflection, even perhaps depressing… How can anyone say "yes"?
The whole of Scripture testifies that God's Love works miracles. Each person's talents and shortcomings are transformed by God's infinite Love; we can "take up our cross" and "leave behind father and mother" and "renounce our possessions". Jesus loves us so much that nothing can stand in the way…if we open our hearts and say "yes", as has been said by the "Saints" whose lives we celebrated on November 1.
The challenge and the opportunity are ours today. Jesus calls us to discipleship in a world beset with pandemics, politics, prejudice, poverty, pessimism… Our witness and involvement as Jesus' disciples are so needed in both the nitty gritty of life, and in the broader, global reach of leadership and visioning.
How will you and I respond…today? Psalm 27 provides faith-filled encouragement: "The Lord is my light and my salvation; whom should I fear? The Lord is my life's refuge; of whom should I be afraid? … Wait for the Lord with courage…" Yes! Amen!!
Fr. John Schork, C.P. is the Vocation Director for Holy Cross Province. He lives at St. Vincent Strambi Community in Chicago, Illinois.