Scripture: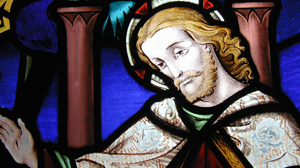 Reflection:
To live in our Generalate House in Rome – the Monastery of Saints John and Paul (in Italian Ss. Giovanni e Paolo) – is literally to 'live amidst history'!
Part of this history is the bell tower of the Basilica church next to our Monastery. This tower was built in the 12th Century upon the foundation stones of a 1st Century Temple (but that is another story!). The builder of our 12th century tower was a construction company that originated in either north Africa or Spain (which at the time was under the Moors). This 'company'  came to Rome with a plan for towers and with the labour force and expertise to build them. They were commissioned by many people to build their towers all across Rome and Sts. John and Paul's was one such customer.
But being a company with workers from countries under Islamic rule, and in order to keep good relations their Muslim workers, the supervisors would allow the workers to decorate parts of the tower with ceramic plates bearing Islamic designs and inscriptions dedicated to Allah. Thus our bell tower – although dedicated to a Christian site and bearing symbols of the cross – is in fact also partly decorated in an Islamic fashion. An early version of inter-faith collaboration, and certainly a sign of a more tolerant time perhaps! (Today the original Islamic plates have been replaced by replicas and the originals have been moved to a museum for safe preservation).
This simple account of the story behind our 'tower' might serve as an illustration for our gospel text today. For certainly construction in the time of Jesus, no less than the centuries to follow, was quite a specialised skill. Building skills were often limited to a select few and passed from generation to generation within the one family. One did not attempt major building projects without having the necessary finances, access to the appropriate stone resources and most importantly having the right workforce to build successfully.
Perhaps there had been spectacular failures to successfully construct small towers that dotted the landscape of Jesus' world. These semi-completed or collapsed towers would form a clear backdrop, a glaring 'visual' prop for the lesson that Jesus was trying to teach.
And what is that lesson for us today?
Clearly this Gospel text refutes any suggestion that we can be satisfied to only follow Jesus in a superficial manner. Rather the words and illustrations that Jesus uses are a challenge, a call to embrace our discipleship wholeheartedly and to commit ourselves to the 'journey' of discipleship. It is a reminder that there will be difficulties along the way, but it also assures us that with awareness, with planning and preparation we can persevere and be successful.
Like the many crosses dotted in our tower, the Cross itself is the great symbol of Christian life – it is the sign of a salvation that has been won for us all. But the cross is also a symbol and powerful reminder that the way forward towards this inheritance, this free gift of God, is not without its costs and challenges.
Towers are built brick by brick, according to a clear vision and with commitment, daily labour and determination. Christian discipleship likewise is achieved by women and men taking up their crosses each day and following in the way of Jesus – step by step.

Fr. Denis Travers, C.P., is a member of Holy Spirit Province, Australia.  He currently serves on the General Council and is stationed in Rome.