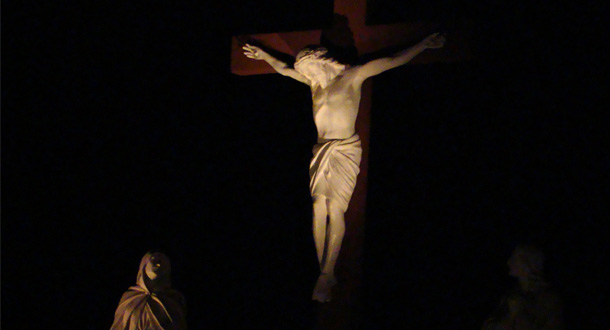 Memorial of Saint Thérèse of the Child Jesus
Scripture:
Zechariah 8:20-23
Luke 9:51-56
Reflection:
Today is the feast of the remarkable saint whose short adult life was spent in a cloistered Carmelite convent in Lisieux, France, but whose spirit captured the world.  She died of tuberculosis in 1897 at the age of 24.  Yet within a very few years her reputation for holiness had captivated the world.  She was canonized in 1925 by Pius XI only 28 years after her death; declared patroness of foreign missions in 1927, and named a Doctor of the Church by Pope John Paul II in 1997.
The heart of Thérèse's spirituality was what she called the "little way."  As she wrote to a friend, Sometimes, when I read spiritual treatises in which perfection is shown with a thousand obstacles, surrounded by a crowd of illusions, my poor little mind quickly tires. I close the learned book which is breaking my head and drying up my heart, and I take up Holy Scripture. Then all seems luminous to me; a single word uncovers for my soul infinite horizons; perfection seems simple; I see that it is enough to recognize one's nothingness and to abandon oneself, like a child, into God's arms. Leaving to great souls, to great minds, the beautiful books I cannot understand, I rejoice to be little because only children, and those who are like them, will be admitted to the heavenly banquet.
Therese herself preferred to be faithful in "little things" –every day opportunities for patience, humility, and kindness.  In this way she could count on Christ's love for her to enable her to achieve holiness.  At the same time, Thérèse had a great soul and was conscious of the world outside her convent.  She felt a deep call to support the missionary activity of the church with her daily prayer and life of quiet fidelity.
Pope Francis cited the "little way" of St. Thérèse in his powerful encyclical on the environment, Laudato Si' (On Care for Our Common Home).  The pope noted that the enormous challenges posed by the environmental crisis can lead us to moral paralysis—what can anyone of us do faced with such complex and serious problems?  How can we offset the corruption and violence that so afflicts our society?  The pope noted that some people are in a position to effect significant change—government and corporation leaders, scientists, etc.—but most of us are not.  But, he said, there are ways we too can exercise our responsibility for our world.  Here he appeals to St Thérèse:
Saint Thérèseof Lisieux invites us to practice the little way of love,
not to miss out on a kind word, a smile or any small gesture which sows peace and friendship.
An integral ecology is also made up of simple daily gestures
which break with the logic of violence, exploitation and selfishness…
Love overflowing with small gestures of mutual care,
is also civic and political, and it makes itself felt in every action that seeks to build a better world."  (Laudato Si' #230)
The accumulation of such "small gestures of love," Pope Francis notes, contribute to the church's mission of "building a civilization of love."
The gospel reading for today, although occurring on this day as part of the ordinary sequence of the daily readings and not special for this feast, picks up the quality of Thérèse's spirituality cited by the Pope. In Luke's account, as Jesus and his disciples are traveling to Jerusalem, they pass through Samaria, a region traditionally hostile to Judeans.  When some of Jesus' disciples enter a Samaritan village to prepare for his arrival, they are not welcomed.  Angry, the disciples ask Jesus if they should pray for revenge— "Lord, do you want us to call down fire from heaven to consume them?"   But Jesus himself rejects such a hostile response and continues with his mission.
Refusing acts of violence and revenge and, instead, offering gestures of reconciliation and love was the way of Jesus in the Gospels and was the path to holiness for a young French woman whose life touched the world.

Fr. Donald Senior, C.P. is President Emeritus and Professor of New Testament at Catholic Theological Union.  He lives at the Passionist residence in the Hyde Park neighborhood of Chicago.