Scripture: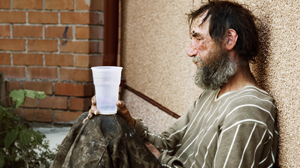 Reflection:
Today's readings offer three important lessons to guide us on our journey to God. The first lesson is that hints of God are all around us. God does not want to be hidden from us or unknowable to us, but longs to be in relationship with us and thus finds multiple ways to communicate with us. God communicates with us most fully through Jesus; however, God also speaks to us through other persons and through creation. As St. Paul testifies in today's passage from Romans, "ever since the creation of the world" God can be "understood and perceived in what he has made." If we want to see God, all we have to do is open our eyes.
The second lesson is that human beings are created to give glory, praise, and thanksgiving to God. But it is easy for us to forget this—or not to believe it—and thus to make something other than God the center of our lives. But St. Paul doesn't mince words: living for something other than God is eminently self-destructive. We think we are wise but in reality we are fools. We think it will be good for us, but when we exchange "the truth of God for a lie," our lives slowly fall apart.
The third lesson comes to us in Jesus' blunt assessment of the Pharisees. He chastises them for getting caught up with the wrong things, worrying more about cleansing "the outside of the cup and the dish" than what is going on in their hearts. It's easy to target the Pharisees, but are we any different? Do we give some things more attention than they deserve? Do we lose sight of what is truly important? As Jesus' closing words in today's gospel remind us, what really matters is showing love and justice to the poor. As he said, if we give alms, "everything will be clean for you."

Paul J. Wadell is Professor of Theology and Religious Studies at St. Norbert College in De Pere, Wisconsin, and a member of the extended Passionist family.