Scripture:
Zechariah 8:1-8
Matthew 18:1-5, 10
Reflection: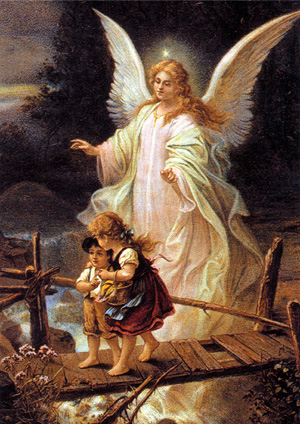 See that you do not despise one of these little ones,
for I say to you that their angels in heaven
always look upon the face of my heavenly Father. -Matthew 18: 10
Sometimes when someone has helped me in a special way, I have said to them: "You have been my angel". It really didn't matter what type of help was given; it could have been financial assistance or emotional support. What made the assistance I received so special was the loving spirit in which it was given. I felt guided rather than controlled; accepted, rather than judged. The person who had helped me rebuild my life had also renewed my faith in other humans, in myself, and in God. That's why I called him or her an "angel."
And when I remember those who have been "angels" for me, most have been people of faith. Their care for me was an expression of their faith—I found out later that their assistance came along with many silent prayers, sometimes prayers of intercession for my needs, and sometimes prayers for guidance as to how to best help me. In other words, my "angels" were focused on me, but their eyes were also on God.
In today's Gospel, Jesus tells us that children have angels in heaven. And these angels always have their eyes on God. Jesus says: "their angels in heaven look upon the face of My heavenly Father." In 2018 on this feast of the Memorial of the Guardian Angels, Pope Francis encouraged Christians to pray and speak to their guardian angel who "is not only with us but also sees God the Father. The angel is the daily door toward transcendence, to the encounter with the Father," Pope Francis said. "The angel helps me walk along the path because he looks at the Father who knows the way. "
On this feast of the Memorial of the Guardian Angels, let us do as Pope Francis asks: pray and speak to our Guardian angels, who help us on our path, our journey, for they guide the way.
And we might also want to thank God for those humans in our lives who have been like angels to us!
Patty Gillis is a retired Pastoral Minister. She served on the Board of Directors at St. Paul of the Cross Passionist Retreat and Conference Center in Detroit. She is currently a member of the Laudato Si Vision Fulfillment Team and the Passionist Solidarity Network.