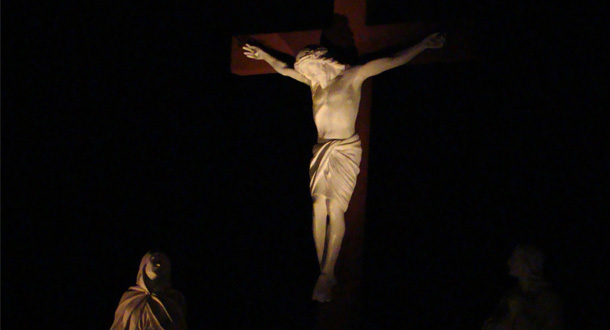 Scripture:
Reflection:
Unsearch Riches of Christ
"You have heard of the stewardship of God's grace that was given to me for your benefit, namely, that the mystery was made known to me by revelation, To me, though I am the very least of all the saints, this grace was given, to preach to the Gentiles the unsearchable riches of Christ, and to bring to light for everyone what is the plan of the mystery hidden for ages in God who created all things." Eph 3:8
Yesterday we celebrated the feast of St Paul of the Cross.  He was the founder of the Passionist Congregation.  His dream was to found a religious congregation that was deeply prayerful and evangelical.  His ideal was that his members would live in community about half the year a contemplative life and for the rest of the year to preach and pray "to bring to light for everyone the mystery hidden for ages in God".
For Paul of the Cross the mystery to be contemplated and preached was the "unsearchable riches" of Christ's love.   According to the scriptures this wonderful love of Christ would best be seen on the Cross. "Greater love has no one than this: that one lay down his life for his friends.  You are My friends!" Jn 15:13     Paul centered his community on this greatest and startling act of love for us on the cross.  By a meditative life of prayer on the greatest expression of God's love his community would be on fire to expose this "miracle of love" by preaching and example. This is their "stewardship of God's grace". In Paul's own words: "His most holy Passion is the greatest and most stupendous work of his love."
 This Word of Christ's passionate care for us on the Cross was branded on our hearts by an added forth vow to promote devotion of the sufferings of Christ.  "The word of the cross is foolishness to those who are perishing, but to us who are being saved it is the power of God." 1Cor 1:18   Paul summed up his dream for the whole Passionist family by these words: "The world lives unmindful of the sufferings of Jesus which are the miracle of miracles of the love of God.  We must arouse the world from its slumber.  His Holy Spirit will teach us how."

Fr. Bob Weiss, C.P. preaches Parish Missions and is a member of the Passionist Community in Louisville, Kentucky.