Feast of Saint John Paul II
Scripture: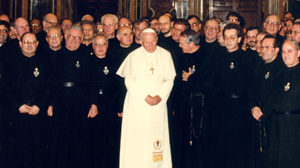 Reflection:
As we read or hear the scriptures for today's Eucharist, perhaps we hear the crashing together of several seemingly different dimensions of the New Testament message.  We have often heard Saint Paul talk to us about living in the freedom of God's children while today we wrestle with an understanding of our being "enslaved" to God rather than sin. We hear crashing!!!
We reverence and hold dear  the Last Supper discourse of Jesus in the Gospel of John in which Jesus speaks eloquently of the Peace He leaves with us and His Peace which is His gift to us  (John 14 : 27).  Today, Jesus in Saint Luke fires up the skies with His bold proclamation that we ought not to think that He has come to bring peace.  Rather, He has come to bring division and enmity and He cannot wait until it is all in motion.  Are we hearing crashing?
Sometimes we see these Scriptures and take a deep breath in the hopes they will quickly pass us by so that we need not go into too much troubled search for some sense from them.  We prefer living in the freedom of God's children and basking in the peace Jesus says He left behind.  But here we are looking into the eyes of a thought provoking daily scripture.
I remember studying the Canon Law of Sacred Orders at Catholic University.  We were looking at the moment when a man was enrolled or inscripted into the clerical state.  The original code carried the meaning that a man "enslaves" himself to God and the service of God's People at that moment.  I always thought that this was a very expressive understanding of the calling that a deacon or priest receives and undertakes in responding to that call.  Then it occurred to me that actually, this is very expressive of the undertaking of every baptized believer and disciple.  By virtue of our baptism, we are "enslaved" to the Lord and the Lord's People.   This is a slavery of love, of joy, of a perpetual union leading to everlasting happiness.  The more we empty ourselves for God and God's People, the fuller we become.  We grow to full stature into the person God always intended us to be by placing ourselves in service to God and all of our brothers and sisters.  No crashing here – only discipleship seen from a different vantage point.
We are lead straight into the message of Jesus today.  Jesus is talking about a commitment so intense that He aches for it to be fulfilled with every fiber of His being.  What commitment?  Jesus came to be our Savior.  His commitment is to fulfill that promise to redeem us which God make in ages past.  Jesus is here to reveal that God is true to His promises, God fulfills His promises.  As the journey toward Jerusalem continues from this point forward in Luke's Gospel, Jesus sees Himself moving headlong into a fray that will result in His violent and unjust sufferings and death.  All who follow Him and announce the Good News of salvation by their words and lives will follow in His footsteps.  That intense commitment will inevitably cause others to question, reject, move away from, and even become hostile toward one who is faithful to the commitment.  Jesus will experience it.  He warns the early disciples they will experience it – and they did.  He warns us we will experience it in our own lives – and we sometimes do.  If we "enslave" ourselves through baptism to the Good News of salvation and announce it with joy, we very well may experience division and enmity on the part of others but the Word will be out there.  It is an "enslavement" of love and of joy to God and God's kingdom.  No crashing here – only a union and labor of love that can never be broken or set aside no matter what storms arise.
Through it all, we follow the example of the Lord Jesus who looked to His heavenly Father for strength and companionship in the journey and in the labor.  We cannot do it alone.  We need divine strength and the support of one another in the life of discipleship.  We have a wonderful twentieth and twenty first century inspiration in the person of Saint John Paul II.  His persistence and intensity in announcing the Good News of salvation captured the world's attention for decades.  May each of us be blessed with joy, peace and persistence in our call to do the same.
Fr. Richard Burke, CP, is a member of St. Paul of the Cross Province.  He lives at St. Ann's Monastery in Scranton, Pennsylvania.