Scripture: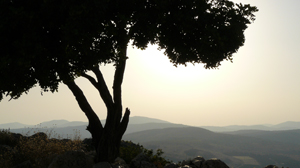 Isaiah 45:1, 4-6
Thessalonians 1:1-5b
Matthew 22:15-21
Reflection:
"I have called you by name, giving you a title, though you knew me not. I am the Lord and there is no other, there is no God besides me." Isaiah 45:4
Growing up is never easy. For us boys, it was always a contest for recognition and acceptance. You were either well known or you were not. You were nameless until someone important called you by name. Anyway, that's the way it seemed back then.
Once, the P.E. teacher gathered the 8th classes together for a baseball game. The two "Jocks" were chosen to choose teammates. The good athletes were the first ones taken, of course. Then, there were a handful of us left to be chosen, the ones who were practically invisible and nameless. I was among that group. Finally, I got a "hey you" and put in right field. And all during the game, I kept praying, "don't hit it my way, don't hit it my way."
Ninth inning, one out, and we were winning by one run, two men on, first and second base. Plenty of balls hit to center and left field, and only a couple of grounders to right. Then it happened. A line drive came my way. Instinct took over. I caught it on the run, and threw to first base and caught the runner on his way to second. Double play, inning over, game over and suddenly, everyone knew my name!
God knows us by name. And God calls us by name.
When we become aware that God knows personally and calls us by name, not only do we begin to feel differently, we also begin to act differently. We begin to feel important, valued. We begin to get the sense that we are worthwhile. Having a sense of self-worth, a sense of dignity, we begin to act as if life is truly meaningful, that our lives count.
In the second reading for today's Mass, Paul the Apostle had to remind the Thessalonians that they had received the Gospel, not only in word but with the power of the Holy Spirit. He reminds them that they were loved by God and were chosen by God to carry out the Gospel in their lives. Life can be overwhelming at times and so we may forget that God loves us, called us into life and called us to live the Gospel as proclaimed by Jesus, God's Only Son.
In today's Gospel, Jesus reminds us to never forget that we belong to God. Once we become aware that we belong to God, we will not be confused as to what belongs to Caesar and what belongs to God. What belongs to Caesar or to this "earthly existence" has no ultimate value. Wealth, fame and good standing are ours by God's grace. Each of these social conditions bring with them responsibility and stewardship. Our wealth is for us to share with those who are in need, our fame enables us to spread Gospel values, and our social standing is an opportunity to give witness to God's way of life.
We need to look no further than our present pope, Pope Francis. The vast majority of us did not know him before he was elected Pope. Now, we hear how his simplicity of life is a witness to Gospel values. Is he well off? Yes, he is, but see how he lives. Is he a powerful man? Yes he is, but see how he uses that authority. Does he have a prominent social position? Yes, he does, but see how his humility is the message. We always need to discern what belongs to God and what belongs to Caesar.

Fr. Clemente Barrón, C.P., is a member of Christ the King Community in Citrus Heights, California.