Scripture:
Reflection:
The Spirit itself bears witness with our spirit
that we are children of God. ~ Romans 8:16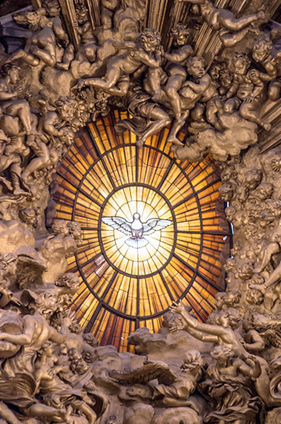 Just last week, a Passionist friend sent me an email recommending a documentary called "My Name is Pauli Murray." I had never heard of Pauli Murray. It turns out Pauli Murray, a civil rights activist, lawyer, poet, and Episcopal priest, is a saint in the Episcopal Church. From youth, Dr. Murray, who was born in 1910, excelled academically, was valedictorian in law school and went on to earn an L.L.M. from University of CA, Berkeley and a J.S.D from Yale Law School. Murray's "States' Laws on Race and Color," a compilation of all state level laws involving race, was referred to as the "bible" by Thurgood Marshall and other civil rights lawyers. Murray was appointed by John F. Kennedy to the Committee on Civil and Political Rights, and worked closely with Bayard Rustin and Martin Luther King, Jr. From 1965-1973, Murray served on the National Board of Directors for the American Civil Liberties Union. Murray died in 1985 and 27 years later, in 2012, was named to the Episcopal Church's pantheon of "Holy Women, Holy Men: Celebrating the Saints" for "advocacy of the universal cause of freedom."
Dr. Pauli Murray worked tirelessly for the suffering and marginalized, doing God's work– just as described in today's Psalm–always seeking to "give a home to the forsaken…and lead prisoners to prosperity" (Ps 68:7). How, you might be wondering, could so many of us have missed this extraordinary person? Perhaps it has something to do with the fact that Pauli Murray was a black woman who resisted gender conformity.
In 2017 she was featured in an article in the New Yorker. What struck me while reading the article was her indomitable spirit in the face of all the obstacles she experienced: the untimely death of her mother, her father's murder, her rejection from various schools because of race and, when she was accepted, the overt sex discrimination she encountered from faculty and students. Fifteen years before Rosa Parks, Murray was arrested and jailed for protesting bus segregation laws in Virginia. In 1952 she was rejected for a US State Department position despite references from Eleanor Roosevelt and Thurgood Marshall.
Through it all, her private papers suggest that her courage and persistence in moving forward with what Michael Curry, Presiding Bishop of the Episcopal Church, called "an agenda for the human good that was constant and unswerving" came from a deep faith that God made her for a reason just as she was, to do the work of God that was uniquely hers. For me, her whole life embodies Paul's words in Romans 8: Pauli Murray's spirit was bearing witness with the Spirit itself that we are all children of God.
In her autobiography, Murray wrote of her ordination: "All the strands of my life had come together. Descendant of slave and of slave owner, I had already been called poet, lawyer, teacher, and friend. Now I was empowered to minister the sacrament of One in whom there is no north or south, no black or white, no male or female – only the spirit of love and reconciliation drawing us all toward the goal of human wholeness."
I can't help but hear an echo of the words of today's Gospel reading in my heart: "'Woman, you are set free of your infirmity.' He laid his hands on her, and she at once stood up straight and glorified God." And I wonder if perhaps it is we who have been in bondage, crippled by a spirit, and she who has been glorifying God the whole time.
Liberating God, we thank you for the steadfast courage of your servant Pauli Murray, who fought long and well: Unshackle us from bonds of prejudice and fear so that we show forth your reconciling love and true freedom, which you revealed through your Son our Savior Jesus Christ; who lives and reigns with you and the Holy Spirit, one God, now and forever. Amen.  (https://www.episcopalchurch.org/lectionary/pauli-murray/)
Lissa Romell is the Administrator at St. Vincent Strambi Community in Chicago, Illinois.
Photo credit: https://commons.wikimedia.org/wiki/File:St_Peters_Holy_Spirit_window_01.jpg