Scripture: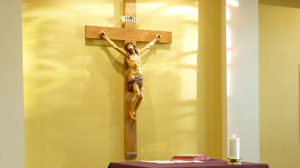 Reflection:
 "For I am convinced that neither death, nor life, nor angels, nor principalities, nor present things, nor powers, nor height, nor depth, nor any other creature will be able to separate us from the love of God in Christ Jesus our Lord."
This bold and comforting statement from Paul's letter to the Romans pretty much says it all!  We cannot be separated from the love of God.  However, we can ignore it and pretend our connection with God isn't there.  Jesus confirms this in our second reading today.
"Jerusalem, Jerusalem, you who kill the prophets and stone those sent to you, how many times I yearned to gather your children together as a hen gathers her brood under her wings, but you were unwilling!  Behold, your house will be abandoned."
It would seem we each have to make a choice.  If we make a choice to affirm and accept God's love, we clearly must reject the divisive nature of our times.  We are one with God and one with each other.  Separation from God's love or each other negates our affirmation.
So, what I say to others matters.  Negative comments about others on social media, support for violence of any kind, absence of compassion for those without homes or countries, cursory judgments on the lives of others and bigotry towards those who are different from us do matter.  These behaviors are representative of a choice for separation and against unity with God's love.
As a Passionist, I join with others at the foot of the Cross to affirm God's love.  At the Cross of Jesus, we are all one in God's love.
Terry McDevitt, Ph.D. is a member of the Passionist Family in Louisville, Kentucky.