Scripture: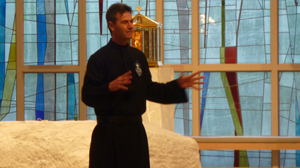 Zechariah 8:20-23
Luke 9:51-56
Reflection:
"Yahweh Sabaoth says this, 'In those days, ten men from nations of every language will take a Jew by the sleeve and say: We want to go with you, since we have learned that God is with you.'" Zechariah 8:23
Have you ever met someone that touched you so deeply by their faith that you wanted to "go with them?" And the more important question… do people want to go with you because they know God is with you?
When we first moved to Chico a year after we married I did meet some people whose faith seemed much deeper than mine. I wanted what they had, and I did follow them – to a church camp that they had once a year up in the mountains. There I learned how their faith was different, and was able to begin my own deeper journey into our faith by the power of the Holy Spirit.
About 10 years after that happened, Fr. Cedric Pisegna, CP, came to our parish to lead a mission. During the mission I knew I had met a brother in the Lord and that God was definitely with him. Jim and I followed him around California to hear him preach whenever we could. He finally allowed us to begin taping his talks to share with others and as they say, "the rest is history." We have been in ministry with him ever since.
But back to my second question… do people want to follow you? Are they drawn to you because of your love, mercy, forgiveness, kindness and compassion? The more we become like Jesus, and not just in our words, but more importantly in our deeds, the more others will want to know what makes us different. May we take our role to heart and be ready to share the great hope to which we are called. And may we love others into God's incredible family and ultimately to our heavenly home.
Janice Carleton and her husband Jim live in Bainbridge Island, Washington,  and partner with Passionist Fr. Cedric Pisegna in Fr. Cedric Ministries. She is the mother of 4 grown children and grandmother of 6. Janice also leads women's retreats and recently published her second book: God IS with Us. Visit Janice's website at http://www.janicecarleton.com/ or email her at [email protected].