Feast of St. Francis of Assisi
Scripture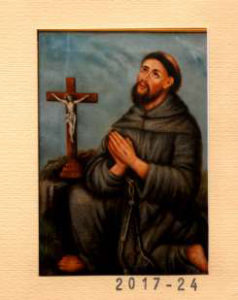 Reflection:
Today's Gospel recounts Jesus inviting people to share his mission of proclaiming the Kingdom of God.  Some made great professions of faith as they joined Jesus; others put some conditions on their program of discipleship – seemingly honorable deeds of burying deceased parents or saying farewell to families at home.  And yet Jesus asks for a full and sacrificial commitment of his disciples…with nothing standing in the way of a person's 100% response!  To join Jesus in going to Jerusalem, to suffer and die…and rise …for the salvific love of all creation.  Amazing!
That bold challenge spoke to the heart of the well-known saint we celebrate today, Francis of Assisi.
Francis heard that personal call of Jesus in the 12th Century and ultimately gave himself wholeheartedly to Jesus in an exemplary life of praise, sacrifice and service. The Scriptures came alive for Francis of Assisi.  His carefree youth was radically changed by the call of Jesus; he renounced his personal possessions and redirected his life to evangelical poverty and preaching.  Francis' life witness was truly charismatic, compassionate, and loving of all God's creation.  God used Francis to call others to join in lives of radical discipleship – so many that Francis compiled a "rule of life" and established a number of religious communities of both men and women.  In the 44 short years of his life, he shared the joy of those early disciples of Jesus and sparked a spiritual renewal that continues to inspire men and women of all ages and walks of life – especially our own Pope Francis!  "Rebuild my church…"
Today Jesus and Francis of Assisi challenge us to generously live and promote God's Kingdom in 2017 and beyond.  Our world is being dramatically challenged by disasters of all types and intensities, violence, selfishness, poverty and hunger, hopelessness, injustice, etc.  And, our witness as faith-filled disciples today?  How do we respect God's presence in people, nature, created things, the daily events in the lives of our worldwide sisters and brothers?  How do we reflect the life-giving simplicity and humility of Jesus and Francis in our lives?  How do we best lovingly proclaim God's mercy and compassion in the midst of our world's suffering and hopelessness, and thus help build up the Church?  Today's Scriptures, the life of St. Francis, and the example of our contemporary disciples encourage us to say "yes" and leave all behind to join Jesus in proclaiming God's love by word and deed.
Today and every day, in the spirit of Francis of Assisi:  May we be simple, faith-filled, joy-filled, compassionate, and respectful disciples of Jesus!  May we be channels of God's peace!

Fr. John Schork, C.P. is a member of the Passionist community in Chicago, Illinois.