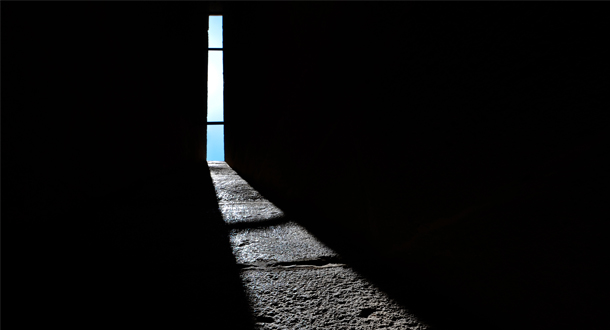 Scripture:
Job 38:1, 12-21; 40:3-5
Luke 10:13-16
Reflection:
If you have been following the Old Testament readings of the day throughout this week you have been on a fast excursion through the story of Job.  This great drama is unlike any other book of the bible.  Job is a man of exemplary character and unwavering devotion who is stricken with misfortune, disease and disaster.  Job, having lost every consolation of life, wrestles to understand his own destitution.  He doesn't buy into reward and punishment theory, but can find no answers to such evil in his life even when his friends and wife are against him.  In distress he calls out over and over to God.
If this has been unfamiliar to you, I would encourage you to familiarize yourself with the earlier part of Job's drama.  Job searches and questions for some type of understanding.  He calls out to the Divine, who is so patient.  Finally, in this 38th chapter God responds in a lengthy outpouring of questions which just spectacularly put Job back in his place.
Where were you when I founded the earth?  Tell me, if you have understanding.   Who determined its size; do you know? Who stretched out the measuring line for it?   Into what were its pedestals sunk, and who laid the cornerstone?
Have you ever in your lifetime commanded the morning and shown the dawn its place?
Do you know how the clouds are banked, the wondrous work of him who is perfect in knowledge?
Tell me, if you know all: which is the way to the dwelling place of light?  And where is the abode of darkness?
Have you entered the storehouse of the snow and have you seen the treasury of the hail?
Can you raise your voice among the clouds, or veil yourself in the waters of the storm?
These are all statements beyond human ability.  They put all of us back in our place when as people we begin demanding that we should know God's mind.  For many of us, it is so difficult to learn a basic lesson; it simply isn't your place to know and understand the mysteries of the mind of God.   And what is transformative is the invitation God gives us.   Don't keep trying to figure out God's mind.  Rather, spend your time rejoicing in the heart of God.

Fr. David Colhour, C.P. is the pastor of St. Agnes Parish in Louisville, Kentucky.