Scripture: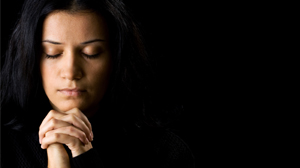 Reflection:
Today's Gospel speaks to us of prayer and urges us to ask the Father for our needs.  Have you ever wondered why God doesn't say yes to all your prayers?  I have.  Well okay, I understand that if I pray to pass an exam and haven't studied, or to win a game but haven't practiced or to be healed but don't take care of myself I shouldn't expect God to reverse the path I've chosen.  And I understand that some things that I tell God I want may not be best for me but there are times that I just know what I am praying for is a good thing and then I wonder and ask, "Why not, God.  Why not?"   Well, perhaps that thing we most fear happening is going to challenge us to grow or teach us to love in new ways.  Maybe we just aren't ever going to know the reason why God doesn't grant our request.  We have to remember and accept that God has a plan and it is not going to be our plan.  And our response should always be, "Thy Will be Done."
The last verse of today's Gospel gives us yet another way of looking at what we ask of God.
If you then, who are wicked,
know how to give good gifts to your children,
how much more will the Father in heaven give the Holy Spirit
to those who ask him?"
This verse of scripture tells us that it's not just anything that God will give us, but that God is going to give the Holy Spirit to those who ask.  That means that we will be blessed with the gifts of the Holy Spirit.  Wisdom, understanding,  counsel, knowledge, fortitude, piety and fear of the Lord.  Wow!  That's some pretty impressive stuff.
I think it's good that we pray to God for all kinds of things.  Of course, it's also a good idea to offer our prayers of gratitude.  Wouldn't it be wonderful if we could all pray like they do in the Old Testament, approaching God as someone who is there with us all the time?  Telling God when we are happy, when we are sad, when we are angry?  Who better to share our lives with?  So it's okay to pray to win that game (or at least to do my best) and it's okay to ask God, why or why not.  But we need to remember that God's ways are not our ways.  God is looking to give us the best of gifts; God wants to give us the Holy Spirit.
Mary Lou Butler is a long-time friend and partner in ministry to the Passionists in California.