Scripture: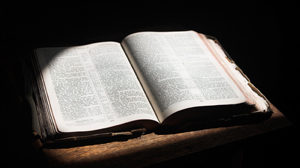 Joel 1:13-15; 2:1-2
Luke 11:15-26
Reflection:
A Spiritual Clutter Counselor
In today's gospel we hear of the battle against a strong man who is secure, fully armed, and ready to defend his palace. But there is one stronger who will break him, take his armor leaving him defenseless, and make his possessions the spoils of victory.
Battles must be approached with caution and planning. Over confidence may leave an area of vulnerability unattended, our opponent may be experienced and prepared. Jesus introduces the story of the strong man after his action of casting out a mute demon. Our Lord is the victor over Satan; Jesus is the stronger.
St. Paul many times describes those who follow Jesus as sharers in the victory of Our Lord. We are clothed in the armor of light and have the gifts of the Spirit as a sort of spoils of victory. Satan takes us away from the fullness of life lived in the joy of God's presence, Jesus leads us to intimacy and oneness with the Father.
If we think of this section Luke as a sort of text book on the battle with Satan, we can jump to John's gospel that gives us like a news report from the battle front what happens when Jesus engages the enemy. We are on Calvary. As we approach the climax of the battle where we see Jesus about to die, Mary and John are on either side of him. To one side soldiers decide not to divide Jesus garment. Something of unity is foreseen. Then Mary and John are united, sent home together. But more than Jesus  providing for the future of his mother, Mary the woman totally open to the Word of God and John the disciple especially loved, are united. In the victory of Christ through his death those who are scattered are now gathered; there is oneness of God's Word joined to love of God. In the battle we cannot be neutral. We choose to join with Jesus and know the unity of God's Word and love, rather than to be scattered.
Luke ends with a scene reminiscent of a character in Anne Tyler's book Saint Maybe. There we meet a professional clutter counselor, Rita. She was a character as unusual as her profession, but the one who provides a new life for the suffering hero of the book.
When a demon is sent on his way and the dwelling in which he lived cleaned and made new, the demon is happily surprised to see his old haunt cleaned and inviting, and he even invites his friends to enjoy it with him. We need Clutter Counselors in our lives! Rita would agree with Jesus who says it is not enough to tidy up. We all have visions of our houses in order. Is the secret somehow to not leave the place empty? Invite Jesus to be the guest and the house will not be empty. Is that what happens to the Women of Galilee to whom Luke gives special mention and has as the first witnesses of the Risen Lord? They all have their demons cast out but are attached to Jesus whom they follow and minister to. Do we need along with the occasional cleaning of our house that spiritual director or guide, honest friend or voice of the Spirit in our lives, so that our hard work isn't for naught and our house gets run down once again?
Jesus asks for our allegiance and that we gather with him. On a practical level a spiritual clutter counselor, may also be a big help.
Fr. William Murphy, CP is the pastor of Immaculate Conception parish in Jamaica, New York.