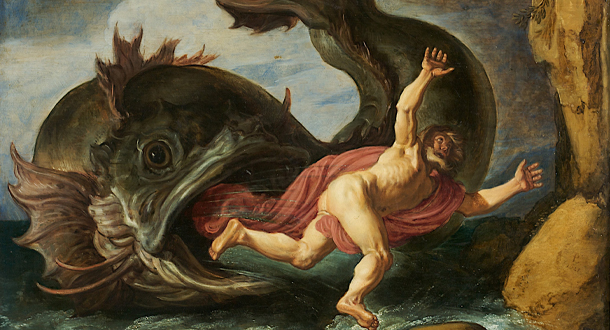 Scripture:
Jonah 1:1-2:2, 11
Luke 10:25-37
Reflection:
Could Today's Lawyer be a Relative of Jonah the Prophet?
We begin this week with a holiday, Columbus Day or Indigenous Peoples Day, and we begin it with two stories from the lectionary. Courage was required to cross the ocean, and no less in coming face to face with an unknown people. What do Jonah, the lawyer and ourselves hear about the courage to go beyond barriers that life sets before us?
Jonah is like a boxer in the ring with God. He takes a lot of quick jabs right in his stomach. But he is tough. He gives right back to God by his stubborn actions that contradict God's good plans.
What a unique prophet. A man of few, well-chosen words; only eight of them. We know the results. The king decrees that every person and animal do penance; all the people are to turn away from their evil ways! Mission accomplished. Sort of well done, Job.
Contradictions abound. Jonah, who is intimate with God, does not do what God asks of him; he tries to do the opposite. Pagan sailors are God fearing. Jonah loses his fight with God, so no victory lap around the ring, but he doesn't even rejoice at God's mercy and the conversion of the evil empire! Jonah, exhausted, rests on a hill above the city waiting to see what will happen, probably hoping for fireworks, and falls asleep. A plant sent by God gives him some protection, but it will shrivel as the sun rises, and Jonah he is exposed and unprotected. When God asks him if he is upset that the plant died, he replies, 'I am angry enough to die'. His protest is a bit dramatic, but includes his feelings about everything God has done, including revealing his own smallness. He doesn't see the knock down punch coming. Lying on the ground, probably wondering how he will get home, he is stunned by God's words: Jonah they a less than babies who know neither left nor right. I am God. You are one of the chosen to show the light of my love to the world, to draw the nations to me. Wake up Jonah! Get a life!
We are reading the minor prophets for three weeks, of which Jonah is one. They speak of Israel's return to Jerusalem after the Babylonian exile. The book of Jonah pleads with the people not to live in fear of God's surprising ways, not to live behind a wall that separates them from a world and people who appear to be frightening. Israel must not lower their expectations of the surprising love of God. Yes, it can be frightening.
And too in the gospel, a lawyer knows the power of the commandments. The law is communion with God, it is life. In following the commandments, we love God and we experience God's love as we love our neighbor. Jesus does not box with the lawyer, he sort of whams him all at once. He says, 'can you imagine the commandments holding you back from reaching out in love, even to an enemy? Or doing the good you deeply feel instead of hesitating because of a restriction that weighs so much less when put on a scale? The law is life, indeed, pulsing, growing, exploring, not to be lived in a vacuum but with neighbors. Jesus gently says what God yells at Jonah, 'Get a life'. Go and do. Be intimate with the God of surprises. Break a rule when you hear God's call to love! Love drives out fear. Do not be afraid.
Fr. William Murphy, CP is a member of Immaculate Conception Community in Jamaica, New York.