Scripture: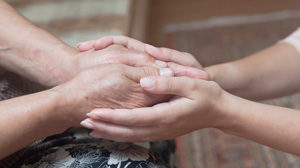 1 Corinthians 12:12-14, 27-31a
Luke 7:11-17
Reflection:
The story of the widow of Nain, found only in Luke and is the first occurrence of restoration from the dead in this Gospel. According to tradition, Nain is located close to the Carmel mountain range and so we have a connection here with the prophet Elisha who performed a similar miracle in the same region in Shunem (2 Kings 4:8-37). Similarly, the story of the prophet Elijah, who raises the son of a widow in Zarephath (1 Kings17:8-24) may be also linked to the crowd's reaction, "A great prophet has arisen" and "God has visited his people." And, here is where Jesus' actions and healing power is separated and distinguished from the great prophets. While both Elijah and Elisha had to physically touch, Jesus merely speaks his command while touching the coffin and the widow's son immediately sat up. Further, in this story Jesus takes the initiative because he was moved with pity as we read over and over in Gospel stories. Compassion means to suffer with and Jesus clearly suffers with this woman.
Life for this widow was over; she would have no means of supporting herself in that culture.
Paul's letter to the Corinthians frames our reflection; we are to understand and value the Body of Christ recognizing our Spirit—generated unity in diversity and care for each member. Jesus, through his cross rearranged our conventional order—the weakest or the least must be a priority within our body. His outpouring of compassion must be ours as well.
I remember when my grandmother, Kathleen, passed away. My heart was broken. She was my mentor and friend. I used to dream that she was brought back to life before our eyes and it was glorious. Then I would wake up to life without her and my grief returned. I would feel jealous of this widow in today's Gospel story. In my naiveté as a teenager I would question God's actions—why that widow? Wasn't it unfair that the rest of us were not chosen—was God playing favorites? I've learned that this story is much deeper than my surface dwelling mighty deeds expectations and I wonder sometimes if this is the operational image we have of God. If my prayers are not answered in the way I expect then does God really love me? Is he even listening? Do I matter to him?
St. Paul places mighty deeds below apostles, prophets and teachers for a reason. He is inviting us to correct our lens so that we do not overvalue the spectacular and undervalue the more important gifts given by the one Spirit for the good of all. Jesus' cross was real—it is real in mine and yours because we bear in our bodies his dying and rising—mystically, one cross for all. It isn't about me being special apart from anyone else—together we are all special because we count as members in the one body.
Let's strive to respond to this sacred gift of unity and divinity today.
May the Passion of Jesus Christ be Always in Our Hearts, Amen.

Jean Bowler is a retreatant at Mater Dolorosa Passionist Retreat Center in Sierra Madre, and a member of the Office of Mission Effectiveness Board of Holy Cross Province.