The Exaltation of the Holy Cross
Scripture: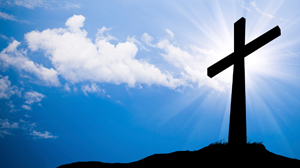 Numbers 21:4b-9
Philippians 2:6-11
John 3:13-17
Reflection:
The cross, the symbol of Christianity.  In our Catholic faith we think more about the crucifix.  It's more than a symbol.  Our Savior is on the cross.  The one who emptied Himself, humbled Himself, was obedient, even to death, on a cross.  For us.
When I reflect on the cross I think of when Jesus said if we want to follow Him, we need to take up our cross.  Taking up our cross in life is not something today's world wants to think about.   Today's world says we can have it all.  There is no place for suffering.  But while that is what our culture promotes,  who of us really wants to suffer, to deny themselves, to do the work necessary to turn away from sin.   Those aren't things most of us want to do.  We get the "no pain no gain" perspective on some level and intellectually understand that we grow through our challenges, struggles, and suffering, but we still would prefer not to.
In my life I have come to see another saying from Jesus as an accompaniment to the challenge to take up my cross.  Yes, Our Lord asks me to take up my cross, but He also says "My yoke is easy and My burden light". He invites us to come to Him when we are burdened and He will give us rest.  So we might not want to seek out suffering, but when it comes, if we sincerely go to Him, He may not take it away, but, as Paul Claudel  said, He will fill it with His presence.  Jesus will walk with us in whatever difficulty we face.   I also wonder if there is an added bonus.  What if we knew that in our suffering we could draw closer to the Lord.  Just as increasing our intentional time in prayer, or receiving the sacraments can draw us closer to the Lord, what if we viewed the difficult times or challenges we face, as a time to learn from the Lord, to draw closer to Him?  Might that change our perspective a little?  Give us a little comfort?  Help us?  My experience says yes, and I know drawing closer to the Lord is where I want to be in times of joy or challenge.

Steve Walsh is a retreatant at Mater Dolorosa Retreat Center in Sierra Madre, and a good friend of the Passionist Community.