Memorial of Our Lady of Sorrows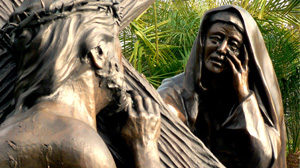 Scripture:
1 Timothy 3:1-13
John 19:25-27
Reflection:
No mother should have to experience what Mary did as she watched her Son die. Is the actuality worse than a mother can imagine?  Think of the women of the disappeared in Argentina not knowing how their loved ones died, or the pain of the mothers and wives of the men and boys of Srebrenica as the mass graves are dug up. It is often women who must live with the horror of war and violence.
Other gospel writers mention the presence of the women at Golgotha, but it is John who explicitly tells us that Mary and the beloved disciple stood by the cross and who gives us Jesus' words: "Woman. behold, your son" and to the disciple whom Jesus loved: "Behold, your mother."
Mary stood, "Stabat Mater" Her eyes must have been riveted on his face, her heart torn by sorrow. Then their eyes meet and Jesus spoke and gave Mary the beloved disciple as her son. Then, addressing the disciple: "Behold, your mother".
Mary, may I appreciate you as my mother. May I go to you with my doubts and fears. May I confidently trust in your loving care for me. Help me to have a compassionate heart as I see Jesus suffering in the crucified of today.
Be with me always and at the hour of my death. Amen.
Fr. Michael Hoolahan, C.P. is on the staff of Mater Dolorosa Passionist Retreat Center, Sierra Madre, California.