Scripture: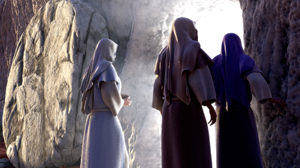 1 Corinthians 15:12-20
Luke 8:1-3
Reflection:
Luke introduces Mary Magdalene for the first time. She, who earlier in the Gospel had washed the feet of Jesus with her tears, and dried his feet with her hair. He cured her of several illnesses. Accompanying her is Joanna, the wife of Chuza, Herod's financial steward. And Suzanna, of whom no more is known. What we do know is that they ministered to Jesus out of their resources, which implies that they had some wealth. We are told they "provided for" Jesus and the Twelve's ministry. "Provided for" is the word used to serve. A rich theological concept. Mary Magdalene and Joanna will be mentioned as being at the foot of the cross and at the tomb. Some commentators think this passage is a prelude to the healing of Jairus' daughter and the healing of the woman with hemorrhages.
Tucked away in this periscope are Luke's favorite themes. One, the use of possessions and wealth, Two, the two groups who ministered with Jesus, the Twelve Disciples, and this group of women who out of their resources supported the ministry of Jesus and the Twelve. Three, the diversity of persons included in Jesus' ministry. Luke tells us Jesus had the ability of taking the most diverse personalities and welding them together into a corps of learning and ministry.
This talent of Jesus is a hallmark for the Church even to today. Students of religion tell us the great contribution of the Church for the world today is that the closer and the more diverse the people we include in our embrace, the more like God we are. Robert Frost tells us that, "Fences make good neighbors!" The Gospel tells us that is not true. Fences separate us from one another. The fewer the fences we have in our lives, the easier it is for us to befriend one another.
Today, September 16, is the feast of St. Stephen of Hungary. He was a king dedicated to the poor. His feast day reminds us of a more recent Catholic leader, Vaclav Havel (1936-2011). He was a Czech President, poet, play write, mystic, etc. He composed a prayer which he called a "Credo." It reads this way:  "I simply take the side of truth against any lie; I take the side of sense against non-sense, and of justice against injustice." His achievements and admirers are diverse. Like Jesus, the diverse his followers, the more Christian he became.

Fr. Ken O'Malley, C.P., is the formation director and local superior at Holy Name Passionist Community in Houston, Texas.