Feast of St. Matthew, Apostle
Scripture: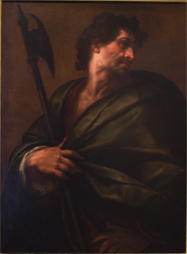 Ephesians 4:1-7, 11-13
Matthew 9:9-13
Reflection:
Today we celebrate the memory of St. Matthew, one of the original twelve apostles, and the author of one of our four gospels.  His gospel seems intent on suggesting the compatibility of the way of life proposed by Jesus with the biblical way of life so evident in the scriptures.  An early disciple of Jesus, he was familiar with the many remarks of Jesus' suggesting how well attuned Jesus was with the scriptures.
This seems to have resonated well within Matthew's narrative, which was written with the Jewish community in mind.  For, as the man Matthew emerges before us in our reading of this gospel, we note some incompatibilities that emerge about him between his Jewish background and his occupation that might have raised some concern and sensitivity about Matthew, because his background was that of a tax-collector—an occupation that would not have endeared itself to any law-abiding Jew, forced to contribute taxes toward the support of the Roman occupation.  So Matthew was likely used to being put down and taunted by his fellow Jews for his collaboration with the Romans, especially in matters of their hard-earned money.  But we gather from the story in our scriptures today that Matthew was not to be that easily dismissed by his fellow Jews, so what does he do but, first, to invite Jesus Himself, and His disciples, to a meal at his house—to the consternation of those Jews who were trying to disregard people like Matthew, and then Matthew ups the "ante" on this gaffe in protocol regarding the table guests by extending an invitation to an unsavory bunch of his fellow-tax collectors and people designated as "sinners".  This took a considerable amount of chutzpa on Matthews's part, which Jesus probably admired.  So, if Jesus was looking for a follower who would stick by him through thick and thin, he found him in Matthew.  And to make sure that the upright tablemates at this meal got the message, Jesus clarifies: "I did not come to call the righteous but sinners."
Years later, when the apostle Paul may have been pondering this message found in Matthew's gospel, he had occasion to capture the heart of it in corresponding with his converts in the city of Ephesus much along the lines Jesus proposes in the gospel today by urging them to bear with one another through love, "striving to preserve the unity of the spirit through the bond of peace", and then he points out what is obvious to all of us, that each of us has his or her own gifts and talents, differing from one another in this regard.  So, as we have learned, we not only differ from one another because some of us are good people, and others of us less so, but we differ even in our good points, our talents and skills, as well as in our vocational calling.  Parents likely more than others have the opportunity, with regard to their children, to notice this variety of differences in their children, and it is these differences that seldom lead to antagonisms among children, but rather to their pride in and support for one another.  A child who is a pianist and another who is an artist and a third who is a story-teller and a fourth who is a cook, etc., are seldom competitive with one another in a harmful way, but often only in a supportive way.  And this seems to be the mindset of St. Paul as he cites the various vocational differences among people of Ephesus, like apostles, prophets, evangelists, etc.
Like a jigsaw puzzle, it is the differences in the pieces of the puzzle that cause, not the problem, but the solution to the task of devising a picturesque design that proves appealing to those observing it.  Initially, a certain piece of the puzzle may prove to be an obstacle, but eventually, for one willing to expend time and energy on it, it turns out to be the key to its completion.

Fr. Sebastian MacDonald, C.P. is a member of the Passionist Community in Louisville, Kentucky.