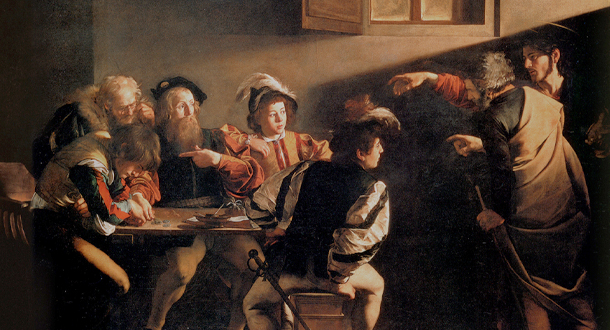 Feast of St. Matthew, Apostle and Evangelist
Scripture:
Ephesians 4:1-7, 11-13
Matthew 9:9-13
Reflection:
Today is the feast of St. Matthew Apostle and Evangelist and little is known about him. He was a tax collector and in other synoptic gospels referred to as Levi. The story of Matthew's call is found in Matthew 9:9 "As Jesus passed by, he saw a man named Matthew sitting at the customs post. He said to him, "Follow me." And he got up and followed him".
The "Call of Matthew" is captured on canvas by the Italian Baroque painter Michelangelo Merisi da Caravaggio (1571-1610). Caravaggio focuses on the first moment that Matthew realizes he is being called.
Do you remember when Jesus called you to follow him?  In our first reading, St. Paul urges us to "live in a manner worthy of the call you have received, with all humility and
gentleness, with patience, bearing with one another through love, striving to preserve the unity of the Spirit through the bond of peace…" Jesus calls all of us baptized Christians to follow him. Like St. Matthew and St. Paul that ought to make a significant difference in our lives and influence how we behave. God has given all of us gifts. Are we living in a manner worthy of our call and gifts? Are we humble and gentle, caring for one another through love? Are we daily building up the Body of Christ by our mercy, and compassion including self-compassion?
Carl Middleton is a theologian/ethicist and a member of the Passionist Family.