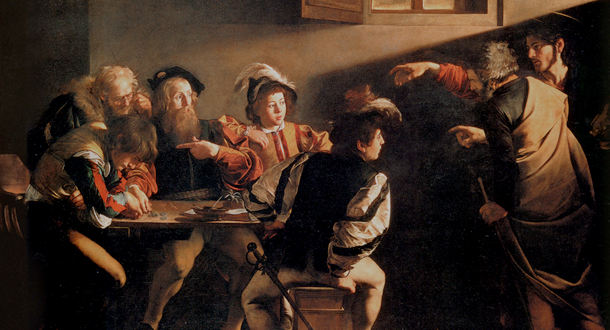 Scripture:
Ephesians 4:1-7, 11-13
Matthew 9:9-13
Reflection:
Today is the Feast of St. Matthew apostle and evangelist. The painting is the "Call of St. Matthew" by the famed artist Caravaggio based on this scripture passage: "As Jesus passed by, he saw a man named Matthew sitting at the customs post. He said to him, "Follow me" He got up and followed him." (Wikipedia, The Calling of St. Matthew https://en.wikipedia.org/wiki/The_Calling_of_St_Matthew)
A number of writers assume the bearded man is Matthew pointing to himself and saying "Who Me"?   A  more modern interpretation is that the bearded man is pointing to a young man slumped over the table.  Some tax collectors had the reputation of being dishonest.  Jesus is calling Matthew "to come follow me".  Jesus calls all of us, young and old alike, to come follow Him.  The Pharisees question the disciples about Jesus' behavior.  Jesus responds: "Those who are well do not need a physician, but the sick do. Go and learn the meaning of the words, I desire mercy, not sacrifice."
So many of us can be self-righteous thinking all we have to do is go to mass on Sunday and we have done our duty.  However, Jesus' words could be paraphrased I desire mercy and forgiveness not just participating in rituals as important as they are.  When I rise each morning do we hear the call of Jesus to Matthew: "Come follow me throughout your entire day."
"Come follow me" embracing each person you meet, each problem you solve, each meeting you attend or each child or elderly parent you care for is done with love and compassion. "Come Follow Me" is our vocation call. Have you and I responded as St. Matthew did completely? Lord, give us the strength and grace to respond to your call daily.
Carl Middleton is a theologian/ethicist and a member of the Passionist Family.