Scripture: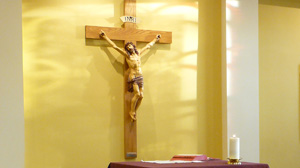 Reflection:
Recently I was hospitalized for five days ( doing fine now,  thanks).  I was confined to bed and was not supposed to get out of bed without assistance.  Reading, writing or even praying was difficult with a multitude of tubes in my arms and neck as well as wonderful nurses coming in to check every irregular heart beat.   I turned to the TV to help pass the time.  Have you seen what has happened to daytime TV ?  When you think about it, it is appalling.  In one break – two minute set of commercials, I discovered "Loan Depot"  specializes in home loans for the riskier people out there;  a certain Law Office specializes in getting you what you deserve from an auto accident or work injury; "Drive-time.com" will finance the car of your dreams even if everyone else has turned you down; and you can get picky with your TV contract by going to Sling TV to get what you have always desired at a much reduced price.  That afternoon I was visited by a friend who is very devout.  She confided to me that God had not answered her prayers.  She had asked to be the sole winner of the Power Ball prize for several hundred million dollars.  She didn't win.   I said I was disappointed too because the Church could have used a hefty donation from such a winner.  Then I asked how many chances she had bought.  She smiled sheepishly and said none.
As I read the selection from St. Paul's letter to Timothy today, these moments came to mind.  How do we in the first world understand or relate to the lessons Paul is attempting to communicate to Timothy and his fellow believers?  Even more, how do we in the United States which has the wealthiest economy in the world understand the core teaching, "…those who want to be rich are falling into temptation and into a trap and into many foolish and harmful desires, which plunge them into ruin and destruction."  If we take a thoughtful look at our TV advertisements and reflect on our own thinking when it comes to "wanting" when so much is available perhaps we will become inspired to seek St. Paul's intercession in helping us form our minds and attitudes in the light of Christ.
Our gospel for today offers us the foundation from which we are to work on conforming our minds and hearts to Christ.  Like the Twelve and the women who came to believe in Jesus, we are all called to be today's disciples who are "…preaching and proclaiming the good news of the Kingdom of God."   It is a proclamation that God has fulfilled the divine promise to send a redeemer to save us and open the pathway to the Kingdom.  To answer the call in an authentic and real way, the values of the Kingdom must find their way into our daily life choices and attitudes.  Today, St. Paul reminds us that the  fullness of the  Kingdom is beyond this world.  In fact, the temptation to focus all of our energy and efforts to acquire as much of this world as we possibly can is a temptation and trap which leads to tunnel vision and deafness.  As such, the effort to gain everything we ever desired here in this world will eventually make the world of the Kingdom inaccessible to us.  Could that possibly be the meaning of Paul's warning that endless pursuit of acquiring possessions leads to "ruin and destruction" ?  Our continuing dilemma revolves around the answer to these questions : How do we use all of the gifts and talents God provided to us in such a way they reach their highest human achievement while at the same time fostering an attitude that all of this is given for the sake of sharing and giving glory to God ?  How do we avoid the destructive temptation to keep drawing all to ourselves in order to place ourselves on a pedestal of pride and conceit?
Perhaps we are able to look around our lives to discover helpers in answering these questions.   This week, I received the periodic  magazine called "Empower" which serves the mentally challenged children and adults of our society.   The Arc Programs across our country provide possibilities for these significant members of our society.  A friend of mine, "Jimmy", is a local Arc member.  I found one article intriguing.  It says, "Many perceive people with disabilities as the ones in need of service, but in reality they are often part of local, state and national engagement."  The article goes on to describe how service for the sake of helping others is part of their self understanding.  They used their gifts and abilities to serve the hungry, create enclosed playgrounds and work on food drives.  They find great satisfaction in helping others achieve a better life.  There seems to be nothing of self interest in their efforts.  Is this not what St. Paul is talking about when he says, "If we have food and clothing, we shall be content."  Just as we have brought nothing into the world with us, so will we not take anything with us out of this world.  With regard to accumulating the riches of this world, are we not to keep self interest in check and always look to be of service to one another?
Living the values and mindset of the Kingdom of God is the goal of Saint Paul's teaching today.  There are competing messages about this all around us.  It is up to each one of us to decide which messages to see and hear.

Fr. Richard Burke, CP, is a member of St. Paul of the Cross Province.  He lives at St. Ann's Monastery in Scranton, Pennsylvania.