Feast of St. Vincent Strambi, CP
Scripture: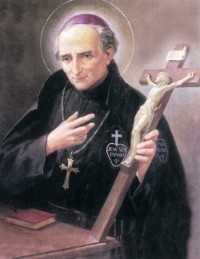 Ecclesiastes 11:9-12:8
Luke 9:43b-45
Reflection:
Provocateur of the Cross
Just as the Father has loved Me, I have also loved you; abide in My love.  John 15:9
I have for a long time thought this is one of the most amazing sentences in New Testament.   The stupendous love between the Father and Jesus is likened to the affection of the Lord's love for us!   The author of Eph 3:17f  prays that "you, being rooted and grounded in love, may have strength to comprehend with all the saints what is the breadth and length and height and depth, and to know the love of Christ that surpasses knowledge, that you may be filled with all the fullness of God."
Today we celebrate the feast of Saint Vincent Strambi, C,P.   He was an early follower of St Paul of the Cross.  For Paul of the Cross the sufferings and death of Christ is the definitive expression of His love.  "But note that the Passion of Jesus Christ is entirely a work of the infinite love of God" (Paul)   Both of these saints lived their lives in contemplation and preaching springing from that nuclear fusion of God's love for us on the Cross!   They lived in the explosive love of the Crucified!  "Abide in My love."
Devotion to the Passion puts a stethoscope on the heart of God.   It is a dangerous devotion because it exposes us to the extreme radiation of God's care for us.   St Vincent by his preaching was a provocateur of God's fondness for the world!  Job asked thousands of years ago: "What is man, that you make so much of him, and that you set your heart on him," Job 7:17   In today's world there are all too many who think that God is too big to care about us.  The Cross shows us rather the opposite truth.  We might be too big to be beneficiaries of His affection, but never too small.  Our lack of humility is our greatest obstacle to the gifts of the Lord.  We will only experience God's revelation if we get on our knees and beg for His mercy.  The wonderful mystery of the Cross is only revealed "to little children"!
Recently I was privileged to celebrate my daily Mass in St Vincent's room where he lived in Rome.  On the  altar was a large relic of Vincent.  It was a great privilege to celebrate this wonderful representation of the death and resurrection of the Paschal event standing by this great Passionist.

Fr. Bob Weiss, C.P. preaches Parish Missions and is a member of the Passionist Community in Louisville, Kentucky.