Scripture: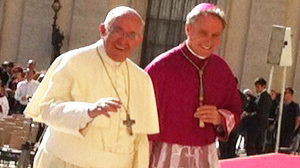 Zechariah 2:5-9, 14-15a
Luke 9:43b-45
Reflection:
All this week, Pope Francis has been making his way among us in the United States. From the White House and Congress to Cathedrals and public Masses, we know he is here among us. I see his presence among us as a reflection of what the Prophet Zechariah writes in today's first reading: "See, I am coming to dwell among you, says the LORD. Many nations shall join themselves to the Lord on that day, and they shall be his people and he will dwell among you."
Pope Francis draws throngs wherever he goes. We are drawn to him. He is communicating the Gospel in new ways, making real Christ's words of mercy in his care for those alone, poor, and shunned. He also makes many of us rethink what it means to live out our faith in our everyday lives.
When Jesus went among the people, he did not go to make people feel uncomfortable or judged. When people encountered Jesus, he reflected back to them, as if a mirror, the truth of their lives. With all their hopes and dreams, their sin and blindness, the people came to recognize themselves as they were. But more important, they came to recognize who they could be. This transformation is not easy. We may even resist it. Yet we need to see the truth of who God created us to be, even in the messiness of our lives and relationships, in order to see beyond the messiness to become all that God calls us to be.
By his simplicity of life, by his acts of mercy and forgiveness, by his challenge to bishops and priests to be real shepherds, and by his embrace of immigrants from war zones, Francis holds up a mirror to us to help us see how we can better live our lives. The Gospel each day challenges us to live the joy of Jesus out there in the world that is so broken and in need of God's love and mercy. We become the presence of God in the world. Through us – and with the help of Pope Francis – God indeed dwells among his people.
Robert Hotz is a consultant with American City Bureau, Inc. and is the Director of The Passion of Christ: The Love That Compels Campaign for Holy Cross Province.