Scripture: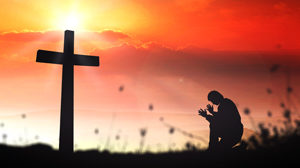 Reflection:
The story of Job is an enduring mystery to us all. It is a story of testing a man's relationship with God. The one who seems to have a good life, a life full of blessing is suddenly stricken and reduced to nothing. All to test Job's faith and whether Satan is right in proposing that Job's faith is dependent on his many blessings.
Years ago I was living and working among the urban poor in the Philippines. This was during the height when pilgrims from around the world were making their way to Medjugorje in what is now Bosnia and Herzegovina. People came to what all said was a holy place where six young children reported having visions of Mary, the Mother of Jesus. Most came in an act of faith. Some came to experience some of the miracles reported by others, like the spinning sun or healings. One of those often shared miracles were stories of jewelry turning to gold.
A group of Filipino women with whom I worked asked me what I thought about the various sightings of Mary at Medjugorje and the stories of miraculous events. "If it strengthens your faith and your commitment to serving the poor," then it must be from God, I responded diplomatically. "But," I continued, "you can deepen your faith and commitment to service without going to Medjogorje." Then I asked, "Would you go to Medjugorje if you knew all your gold jewelry would be turned to tin?" They were truly aghast. They said God would not do that. Interesting.
In today's reading, Job is stripped of everything, and in the end he simply proclaims, "Naked I came forth from my mother's womb, and naked shall I go back again. The Lord gave and the Lord has taken away; blessed be the name of the Lord!" The story of Job is not about what he has or does not have. It is not about whether there are apparitions or miraculous events.  It is about our enduring faith, even when things seem to unravel. Many of us have similar experiences to Job—loss of a child, loss of a job or a home, loss of friends, loss of mobility or eyesight. Whatever it may be, we know from Job that God's love for us can never be taken away, nor our faith or our love for others.

Robert Hotz is a consultant with American City Bureau, Inc. and was the Director of The Passion of Christ: The Love That Compels Campaign for Holy Cross Province.