Scripture: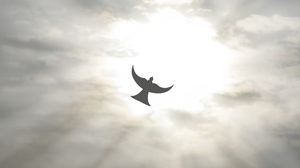 1 Corinthians 4:6b-15
Luke 6:1-5
Reflection:
The Lord is near to all who call upon him. Psalm 145:18
Friends recently lost their 22 year old son in a car accident. What a heavy cross to bear! I am so glad that they are devout Catholics who have a bed rock of faith to hold them up as they face this tragedy in their lives. The Lord truly is near to all who call upon Him, and He is tender-hearted to those who are grieving. We read in Matthew 5:4: "Blest are the sorrowing, for they shall be consoled." And in Psalm 34:19: "The Lord is close to the broken-hearted; and those who are crushed in spirit he saves."
Certainly God will comfort our friends, but what can we as friends and family do to help them? It's different to lose a child rather than a parent or someone who has been sick, so I asked other friends of mine who lost their 33 year old daughter two years ago what they would recommend. I got this note back:
"Just tell them that you have no way to understand their loss, but that you love them and will pray for them. Take them food, mow their lawn, send them chocolate or homemade cookies. Check back in with them later, after things settle down. They will be feeling very alone in a month or so. Be there for them. Don't quote Bible verses or try to fix or suggest anything. Just be there. There's no way to make sense of it, and their loss will overshadow the joy of knowing that their child is in heaven. Job's friends did great until they started talking."
I think this is really great advice. I especially love the last line. Be a good listener, but choose your words, if any, carefully. Hugs will say more than words can. Carol's husband also sent me a message. He said, "In two or three months (maybe longer depending on the person) there are two books I would recommend. When God Breaks your Heart and Lament for a Son. Sometimes a tragedy such as this sends people away from God. In that case, we can also pray, pray, pray, that those in grief turn to God instead of away from Him. And if they do reject God, we can pray that they will eventually come back to their faith. Love them back.

Janice Carleton and her husband Jim live in Portland, OR and partner with Passionist Fr. Cedric Pisegna in Fr. Cedric Ministries. She is the mother of 4 grown children and grandmother of 6. Janice also leads women's retreats and recently published her second book: God IS with Us. Visit Janice's website at http://www.janicecarleton.com/ or email her at [email protected]