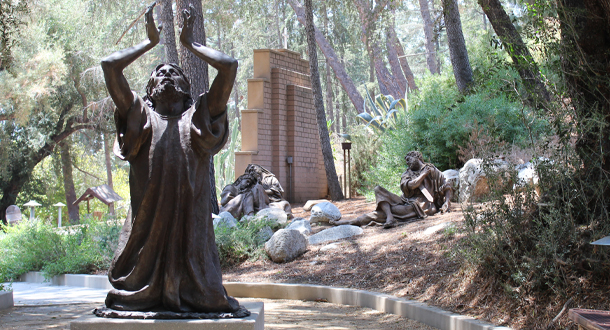 Scripture:
Jeremiah 20:7-9
Romans 12:1-2
Matthew 16:21-27
Reflection:
In the midst of the Shoah' (the holocaust) many Jewish people lost faith in God. They had experiences so much suffering and evil that they had given up trying to answer the question 'why did God allow this happen to us?', and indeed many had lost any hope that there was even a God.
At age of 15 Elie Weissel had been taken to a concentration camp and only he and two sisters survived. Based on the horrors he experienced, he spent his life keeping people aware of such depravity and inhumanity. Of the forty works he wrote; one is a play called The Trial of God. Weissel set it in the year 1649 after a pogrom and persecution of the Jews in Russia, but the play seeks to answer the same basic question – 'How could God allow suffering to happen to innocent people?'.
In the play God is put on trial, witnesses testify against God for not protecting people from suffering, and God's only defender turns out to be a young man who slowly and carefully dismantles the arguments and defends God – he disassociates God from their pain and suggests it is their sins that have merited such suffering. At the end of the play the characters are shocked to learn that this young man is the devil.
In such a light we might look again at the reaction of Peter when he learned that Jesus was to suffer. He instinctively tries to prevent this happening; and for doing so, Jesus calls him Satan! Peter is thus the only person in the scriptures named as the devil!
What is happening?
Certainly, we abhor evil and seek to prevent suffering in life. Yet we know all too well that it can be visited upon us without warning, without reason and without justification. Peter's instincts are only human and normal. Yet, something is wrong in his reasoning.
While we can't always have an answer to the Question 'Why?' evil and suffering occur, we do know that God is not absent from our experience, that God is not simply a bystander, is not uninvolved in our pain and certainly not the one causing it.
Yet suffering remains; weaving itself into our lives to greater or lesser extent, but nevertheless always there. At the very least it shows us that life is an incomplete reality – free choices, the instability of our natural world, human harm to the balance of nature, the divisions within the human heart, risk-taking activity, egotistic, selfish, or manipulative behaviour, times when distorted thinking triumphs over the deeper human instincts for compassion and protection – these and many other dynamics can cause or contribute to suffering in our world.
Suffering remains a mystery, so we can't solve that today. But we can see that Jesus was not exempt from suffering, and that he instinctively believed that fidelity to God was of the highest order of value and even outweighed preservation of one's own life. More so, he was concerned to clearly delineate God's action and love for us, from the origins of evil and suffering. He challenged orthodox thinking in this way and ultimately it did cost him his own life.
For us today the dialogue between Jesus and Peter is revealing. The message is both mysterious and clear. God is on our side in those times we suffer. Fidelity to God and to the truth can be costly. Avoidance of suffering is a human instinct, but not one that must be followed at every turn. We must be aware of instincts like self-preservation when they tempt us to turn away from the good – at such times we may not feel that we are also turning from God's way, but that might just be the outcome. In everything Jesus's example, attitudes and teachings are our true guiding light.
Fr. Denis Travers, C.P., is the Provincial Superior of Holy Spirit Province, Australia.