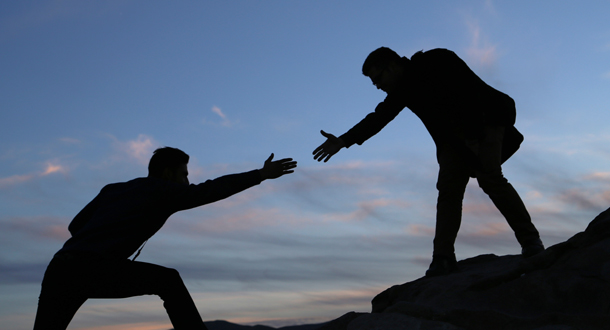 Scripture:
1 Thessalonians 4:13-18
Luke 4:16-30
Reflection:
Spreading the Good News
Today's Gospel selection recounts Jesus' early ministry on a sabbath in his hometown synagogue. He proclaimed a familiar reading from Isaiah, and then said "…today this Scripture passage is fulfilled in your hearing." The initial reaction of the people was very favorable – "the eyes of all in the synagogue looked intently at him…amazed at the gracious words that came from his mouth". BUT, when they realized the full implication of what he was saying — that he was the fulfillment of the prophecy — their "favor" turned into incredulity. How can the son of Joseph the carpenter be all that he claimed to be? Their incredulity "blossomed" into hostility and fury, to the point of almost hurling Jesus over the brow of a nearby hill! Jesus escaped the people's fury by passing through their midst and leaving his hometown…on to other peoples and places, other challenges — and opportunities.
In our 21st Century world, we ponder Jesus' challenging words as he quotes the prophet Isaiah. "The Spirit of the Lord is upon me…he has anointed me to bring glad tidings to the poor…to proclaim liberty to captives…recovery of sight to the blind…to let the oppressed go free…to proclaim a year acceptable to the Lord…" Jesus provides us with his "mission statement", his ministry to peoples of all times and locations: It's Good News that challenges each of us to action, just as it did the people of long ago!
Today we in the United States and Canada celebrate Labor Day. We thank God for the resources and skills that help us collaborate in providing the necessities of life for one another, along with responsibly caring for all of creation. As citizens of planet earth and members of God's family, we celebrate Labor Day in a spirit of thanksgiving and petition — that God would continue to watch over and inspire each of us to "labor" for the good of all creation as 21st Century, Spirit-filled disciples of Jesus.
As disciples called to "labor" in our world, we have Good News to proclaim in both word and deed! God's Spirit is with us as we face the challenges of violence and hunger, of floods and hurricanes, of bigotry and racism, of illness and injustice and selfishness of all types. No matter our heritage or our experience, we offer our gifts and our limitations to build up our human family and our world in the bold spirit of Jesus and Isaiah.
With and in Jesus, "the Spirit of the Lord is upon us." Time to build! Let's get moving! Amen.
Fr. John Schork, C.P. serves as the Province Vocation Director and also as Local Superior of the Passionist Community of Holy Name in Houston, Texas.