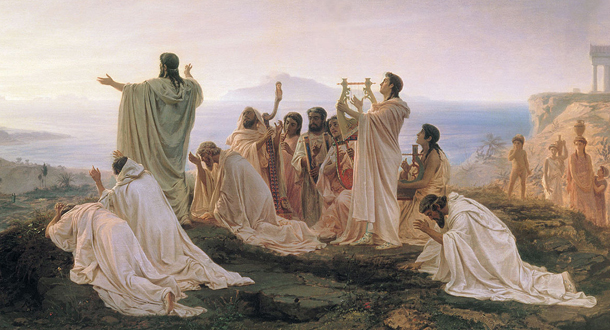 Scripture:
1 Corinthians 5:1-8
Luke 6:6-11
Reflection:
And you are inflated with pride. Should you not rather have been sorrowful? The one who did this deed should be expelled from your midst. -1 Corinthians 5:2
Then Jesus said to them, "I ask you, is it lawful to do good on the Sabbath rather than to do evil, to save life rather than to destroy it?" -Luke 6:9
There is a great dichotomy in our readings this day. On the one hand we have Paul telling a church in Corinth that they must hold to the Law. He severely admonishes them for allowing sin to flourish in their midst. He doesn't even suggest that they try to redeem the sinner! He encourages them to turn him loose and let him make his way alone.
On the other hand, we have Jesus in the synagogue. Before the gathered religious authorities He seems to define the Law. He heals on the Sabbath! Now, in our day and age, it's hard to understand how strident the law against all activity on the Sabbath was at Jesus's time. I mean, who among us has not done yard work or gone shopping on a Sunday? But to those gathered around Jesus this was not a minor bending of the rules but a flagrant disregard for accepted tradition. What is it that sets these two scenes apart?
I once asked a friend of mine who is a priest this question. "Why is it," I asked, "that sometimes it seems the laws of the Church can be bent or even broken?" He answered me in a similar way as Jesus does: "Is the act life-giving or community building or does it break relationships, tear apart friendships, damage our relationship with God?"
No greater theologian than Joseph Ratzinger (later Pope Benedict XVI) said this about church authority: "Over the pope as expression of the binding claim of ecclesiastical authority, there stands one's own conscience which must be obeyed before all else, even if necessary, against the requirement of ecclesiastical authority."
My prayer today is that I develop a "well-formed conscience [that] is upright and truthful" as the Catechism instructs so that I can truly discern what is life-giving.
Talib Huff is a member of the retreat team at Christ the King Passionist Retreat Center In Citrus Heights, California. You can contact him at [email protected].