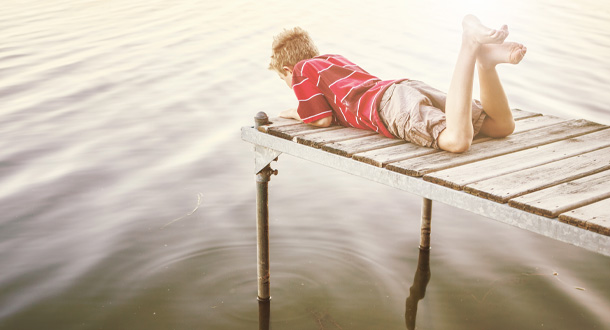 Scripture:
1 Corinthians 6:1-11
Luke 6:12-19
Reflection:
Jesus departed to the mountain to pray, and he spent the night in prayer to God. -Luke 6:12
Early in my life I, like most young people, caught the waves of activities all about me. Tasks to be finished, people to meet, events I did not want to miss, things I needed to buy, schedules to be filled.
Living frenetically, without self-reflection, without extended periods of silence, with rushed recognition of God's presence, eventually led to a life of superficial experiences and minimal personal growth. And a frail relationship with God.
Under the gentle hand of a wise spiritual director, I gradually learned the satisfaction of extended prayer, but not without maximum resistance by me.
Making regular prayer a priority has, in time, shifted everything in my life.
What I thought I could not live without, I found out was false. What I thought I had to do, to achieve, to win, I found out were unnecessary efforts.
In time, I found a space of, what one spiritual guide called, "poised freedom." It is a place, in God's presence, where, in the words of St. Ignatius of Loyola, "…in everyday life, we hold ourselves in balance before all created gifts as we have a choice and are not bound by some responsibility. We should not fix our desires on health or sickness, wealth or poverty, success or failure, a long life or short one. For everything has the potential of calling forth in us a more loving response to our life forever with God. Our only desire and our one choice should be this: I want and choose what better leads to God's deepening life in me."
This experience of letting go frees us from urgencies, wishes and idols that our morally illiterate culture dictates we must follow.
When I make sure to take time each day for silent space in God's presence, God seems to gradually seep into my awareness, giving me the wisdom to distinguish which things are ultimately important from the things that are imprisoning. By God's grace I, step by step, am led to God's deepening life in me.
This closeness is no doubt what Jesus experienced spending the night alone with God on that mountain. Throughout the gospels, he models for us how to pray. It is always done away from the activities and expectations of others. He sits alone with his Father, in silence.
By pulling back each day, finding a quiet space in a church, a closed room, a park, along a wooded path, or at the shore, and just sitting in silence before God, is absolutely necessary to deepen God's life in us.
St Francis de Sales is said to have recommended we spend at least 30 minutes a day in prayer, except on days we are very busy. Then he recommended we spend an hour in prayer, no doubt because we have more to filter through the lens of God.
Trusting God will do what is necessary to draw us closer, we have to take the first step and be available for God to do the work. Otherwise, we drift through each day feeling and thinking of the immediate, the superficial, the urgent and the inconsequential demands of daily life.
God is offering each of us a lot more out of life than we realize unless we take time to stop, listen, and let God work God's ways within us.
Jim Wayne is a board member of the Passionist Solidarity Network (PSN), and author of The Unfinished Man. He lives in Louisville, Kentucky.