Scripture: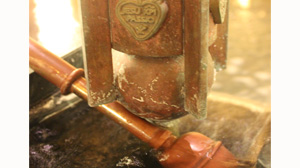 Reflection:
I attended class on Saturday mornings to complete my undergraduate degree allowing me to begin my working career before graduation. Jack, the president of the company, had a big corner office on the first floor of this ten-story warehouse that filled a block just south of the Chicago Loop. I don't remember the car he drove, but I do remember that he had a sailboat moored at the Chicago Yacht Club where he periodically hosted sales meetings and dinners. He taught me how to sell.
Father Benet Keiran, CP,  served as the assistant pastor of Immaculate Conception, the parish staffed by Passionists on the northwest side of Chicago in the 1950's. I remember the day Father came over to bless our house. We, my twin brother Dave and my younger brother Tim, followed and watched as he meandered from room to room with a pen in one hand sprinkling holy water and a prayer book in the other from which he read the blessings. On the way back downstairs our dog, Rusty bounced up the stairs to catch up when we asked Father if he could bless Rusty. He gladly obliged reciting a special blessing for Rusty and sprinkling him with the holy water. Father taught me at that young age, that my home and even my pet were special and worthy God's blessing.
"While the crowd was pressing in on Jesus and listening to the word of God,
he was standing by the Lake of Gennesaret.
He saw two boats there alongside the lake;
the fishermen had disembarked and were washing their nets.
Getting into one of the boats… When they brought their boats to the shore,
they left everything and followed him." (LK 5:1-11)
I admired and followed Jack and Benet, two men of very different backgrounds and social standing, who happened into my life. Peter James and John encountered Jesus and followed him. My hope and prayer today is that we, the followers of Jesus will attract younger people to follow us and maybe more importantly live lives that are worthy of following.

Dan O'Donnell is a Passionist Partner and a longtime friend of the Passionists.  He lives in Chicago.